Posted by

Joseph Barnes on Aug 10, 2022 3:46:54 PM
The following guest post was written by Kate, about her internship experience with us this summer.
This summer I have been studying and researching the green industry to see how Yellowstone Landscape can continue to provide exemplary services while also preserving the environment and taking great care of its employees. This work has involved many hours of reading and research, as well as interviewing Branch Managers, Account Managers, Mechanics, Landscape Designers, and whoever else I could grab! I also visited branches in Florida and the Chicago area where I met with employees in person. Traveling has been a highlight of my summer because it allowed me to meet so many diverse people in diverse roles and make new connections while gaining their perspective of sustainability in their everyday work.

Every branch I visited was filled with smiles, handshakes, and amazing people. I learned how each branch functions as a team and how they work together to be successful. If I could use one word to describe the atmosphere of everywhere I went, it would be "welcoming". No matter who I spoke with, they wanted to hear about my work, where I went to school, and what got me interested in landscaping. They wanted to get to know me and were very interested in my project, what I had discovered, what I was still looking into, and how they could apply those concepts at their branch. I was excited to hear that many branches were already doing some great things on their client properties to be sustainable.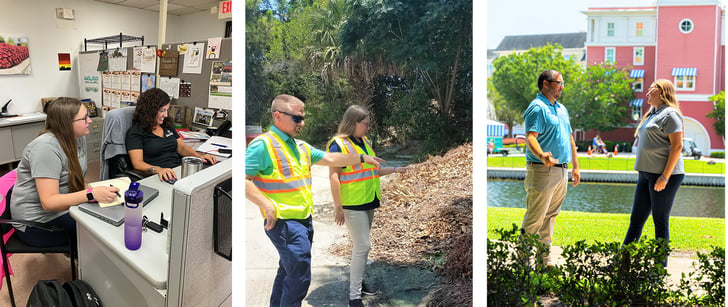 During these interviews, I got a sense of what practices employees thought could be easily implemented and what they were most excited to hear about. I also got some great ideas from the conversations that ensued, giving me new ideas for areas to research and dig into deeper. The next steps include taking this research information, and working with an amazing team of Yellowstone Landscape employees, set goals and create policies for ourselves to further our sustainability efforts. I can't wait to see where it leads!