Posted by

Joseph Barnes on Aug 2, 2021 12:15:22 PM
The following guest post was written by Angelo, about his internship experience with us this summer.
Born and raised in Venezuela, I have worked all my life in my family business, a cattle ranch. I don't know anything about landscape however, I'm a hard worker who has never refused an opportunity to learn something new. As a master's student in Agribusiness Management at the University of Florida, I decided to take the opportunity to learn about the business and industry through this internship program.
From the start, I realized the vastness of knowledge someone must have to work in this business. Therefore, my Mentor, Antonio Perez decided to rotate me through each department to learn what they do. Safety being first, the shop Mechanic Mr. Gabriel taught me how to use each tool the proper way for both my protection and the equipment's preservation. I have to say that I have never seen such a neat and professional mechanic in my life. The way Mr. Gabriel explained to me the operational processes resembled a doctor explaining a medical procedure to a student.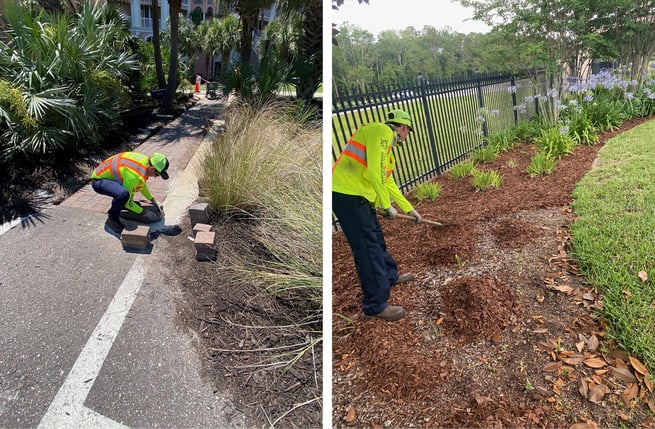 My first field experience was working with the Landscape Installation division led by Pablo and Gabriel. We did incredible enhancements, redesigning landscapes in deluxe residences with resilient hardworking people to make it happen. This work gave me a feeling of great satisfaction. I also learned from the Detail Crew and the duties required to maintain a luxurious resort in ideal shape. A crew made up of a team of two, Raul, and Mrs. Cristina are the best people I have had the chance to know and I now consider friends.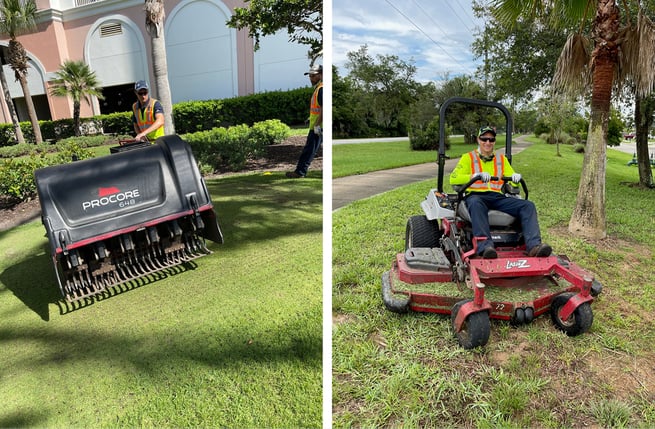 Moving on in my rotation, I was a little hesitant to work with the Mow Crew. The miles and miles of turf they maintain every week seemed endless for me. Nevertheless, the efficiency of these three men to get things done is astonishing. Not only did they teach me how to use the mowers, which I found unexpectedly fun, but they also shared profound discussions. The priceless opportunity to share conversations with Juancho, Luis, and Jonathan about our dreams, goals, hobbies, college careers, and families are something that will resonate with me forever!

On to irrigation with Will. He swamped me with information he learned from mentors and experiences and impressed me by his hard work. The Fertilization & Chemical crew led by James and Jim showed me how to properly maintain every single piece of turf, flower, weed, and pest. All this, alongside constant questions, and concerns about the situation in my home country, family, and friends. This proved to me that good people care for you, no matter your position in the company.

Finally, I would like to recognize the remarkable job that my Mentor, Antonio did this summer. This was his first time supervising an Intern and he was able to cope with the challenges that this business brings while answering a million questions from me every day. This young manager is an example of no matter where you come from, or what you have been through, always strive for more, and the reward will eventually be yours.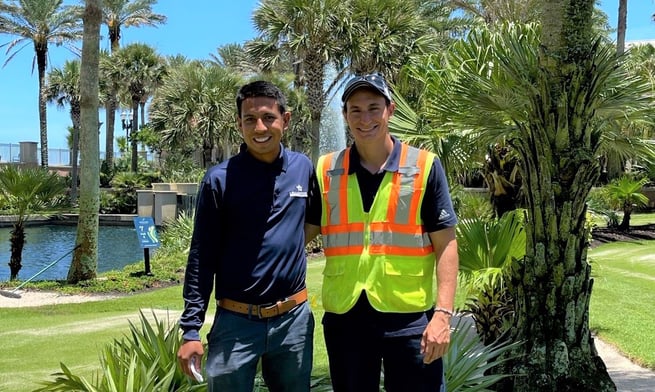 I have learned you can come to Yellowstone Landscape without knowing everything there is to know about the industry. If you come with a willingness to work hard and a good attitude, these people will take care of the rest! I can say that I began this internship full of doubts, and I'm finishing confident in what I have become. Finally, a big thank you to Lisa Hall and Ty Rentz for believing in me and giving me the opportunity to get to know these amazing people, who are the true artists behind "Excellence in Landscaping."