Posted by

Joseph Barnes on Aug 6, 2021 8:38:18 AM
The following guest post was written by Emily, about her internship experience with us this summer.
As a Horticulture student at Houston Community College, I learned of the Yellowstone Landscape internship program through the head of our department who always works hard to make sure his students get the best possible learning opportunities. I knew that this was one I could not pass up. I have learned many things during my time with Yellowstone Landscape, but my "Internship Project" provided some of the best learning opportunities.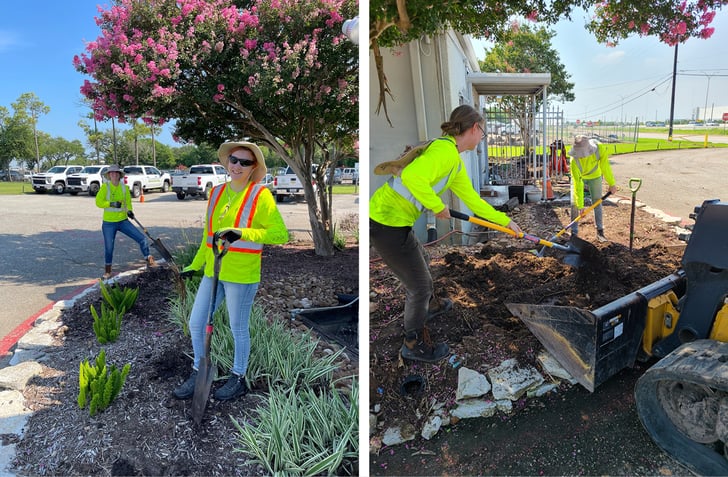 Another intern and I were tasked with transforming the landscape and building exterior at the Southwest Houston location into something beautiful. The many challenges we encountered included a broken water feature that hasn't worked for ten years, washed-out paint and stained walls, a rusty sign that was barely held together, on top of a landscape that hasn't been updated in years. From start to finish, we did almost everything ourselves. We began by discussing with our "client", the Branch Manager, what kind of design he wanted. We then researched plants and created a virtual design in Photoshop. Once we had the design and an idea of what plant materials we wanted to use, we began contacting vendors to check availability and pricing, which was a huge challenge after the winter ice storm. In the end, we had to change the entire design because of the lack of available plants, but I believe what we ended up with is more beautiful than the original plan. We completely re-did the landscape beds and repaired the irrigation with the help of our Irrigation Manager. In between those projects, we found a painter to paint our building, and a company that makes beautiful wooden signs to replace our old one, as well as taking a few days to repair our waterfall feature. Finally, we installed bull rock, to complete the project.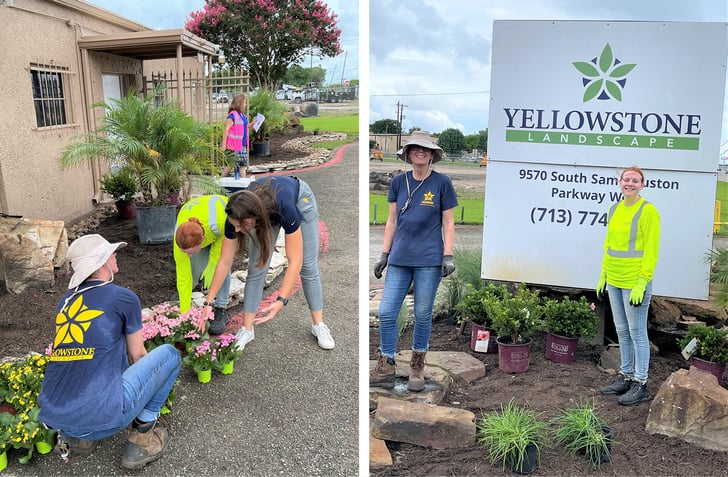 Throughout the process, I learned so much about the different areas of the commercial landscape industry and am extremely grateful for the opportunity to get such great hands-on experience. I also appreciate the members of the Yellowstone team who were kind, friendly, and informative, as well as patient during the times when we had no idea what we were doing. They took time to teach us how to redirect water from the building, repair an antiquated irrigation system, rebuild the water feature and stacked stone wall, and strategically place the new plant materials. This has been a priceless experience and if given the chance, I would absolutely do this internship again!