Posted by

Joseph Barnes on Aug 4, 2022 2:35:00 PM
The following guest post was written by Megan, about her internship experience with us this summer.
I first heard about Yellowstone Landscape when Lisa Hall visited the Plant and Soil Sciences Club at Sam Houston State University during my freshman year. Her account of life at Yellowstone was intriguing and exciting and was supported by the testimonies of Gladys and Rachel, SHSU graduates and former Yellowstone interns, who are now full-time employees at the company.
This has been a fantastic experience! I was placed at the Houston North location along with Gabrielle, a friend from college and design intern this summer. It was fun having a familiar face at the branch!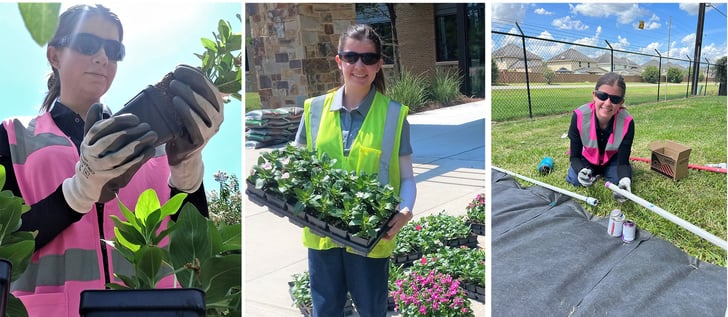 As a landscape management intern, learning about the industry and how it functions was my goal. That goal was successfully met through the rotating schedule and learning objectives. My mentor, Marcos, made sure that I had a well-rounded experience. I mowed on a zero turn for the first time, learned to operate a tractor, installed sod, worked AutoCAD software, inspected properties, communicated with clients, used Aspire software to schedule crews, learned about irrigation, and so much more. Most of all, I got the chance to see the daily responsibilities of an Account Manager.
Account Managers have a lot on their plates. They are responsible for making sure the crews know where to go, what to do, and what the site should look like when they are finished. They create schedules and estimates, coordinate supplies for their crews, and are the face of the company for their clients. They also must keep up with the constant slew of calls and texts from their crew members and clients. If anything does not go to plan, they must act quickly to rearrange the schedule and create a second, third, or fourth plan. Communication and problem-solving skills are a must!

I have so much respect for the crews and managers in this industry. It is a labor-intensive job, but it can be such a satisfying one. Redesigning, installing, and maintaining a site's landscape is a fulfilling process. I felt pride and accomplishment when I drove past a project I helped install.
The team at the Houston North branch was so welcoming and excited to have me on board. Everyone I shadowed and worked alongside was happy to explain what they were doing and why it mattered. This was a valuable learning experience, and the skills I learned and strengthened will help me as I continue my career.