Posted by

Joseph Barnes on Feb 27, 2023 12:46:42 PM
"The key to pursuing excellence is to embrace an organic, long-term learning process, and not to live in a shell of static, safe mediocrity. Usually, growth comes at the expense of previous comfort or safety."
— Josh Waitzki
This quote from Josh Waitzkin - a former child chess prodigy, martial arts world champion, and author - packs quite a punch. It expresses something we've made a part of our culture at Yellowstone Landscape over the past decade. Growth requires change. If we were to start to sit back and bask in our own achievements, we would stop learning - and stop growing.
Each year, we bring together three distinct groups from across the company for a series of annual meetings and training sessions in January and February. This year we started with our Sales team in mid-January, gathered our Branch and Regional Managers the following week, and concluded with our 2023 Office Managers' Conference just last week.
These meetings, and the learnings that come out of them, have led to some of the most important and impactful changes we've made to help sustain our company's rapid, yet measured, growth and have been a big part of our success over the past decade.
At each meeting, we review what we did well as a company in the previous year, but we always spend far more time talking about how we can improve. No matter how good the prior year may have been, there's always a long list of things we want to change - things we know that we can do better.
Ideas come from everywhere within the organization and range from ways to help our teams work more safely and efficiently, to how we can serve and communicate with our clients better, to what we can do as a leadership and management team to make our employees' lives better.
And while every company needs its own "secret sauce", this year we want to be upfront and transparent about three things we are focused on improving in 2023.
Why share this publicly here, for anyone to read? Because we know that growth means doing things that make you uncomfortable. And while it's certainly uncomfortable to admit there are areas where we need to improve, that discomfort is nothing compared to the danger of remaining stagnant or brushing our flaws under the rug, just because the business metrics tell us that it was another year for the record books.
So, in the spirit of openness and increased accountability to ourselves, our clients, and our 6,000 Yellowstone Landscape Professionals, here are three things we're going to do better in 2023.
Build The Next Generation Of Leaders
We have some of the brightest and most experienced people in the landscape industry within our ranks. They are all truly respected men and women that know our business inside and out. But one thing we haven't done yet is build out a structured system that helps us raise the next generation of leaders from within our own ranks.
We have inspirational stories from almost every branch in our company. Stories about how one of our employees overcame challenges, worked hard, learned, and progressed up their career ladder. And we'll continue to share those stories inside and outside our organization because that's one of the greatest things about our industry. In fact, we celebrate that the green industry is one of the few remaining places where hard work and determination are still the only requirements for success. But those individuals had to make their own path to success.
This year, we want to develop a roadmap for others to follow and show so many more of our Landscape Professionals that we're committed to growing and caring for our people. Clearly painting a picture for them that what they're doing is more than a job - it's the start of a career.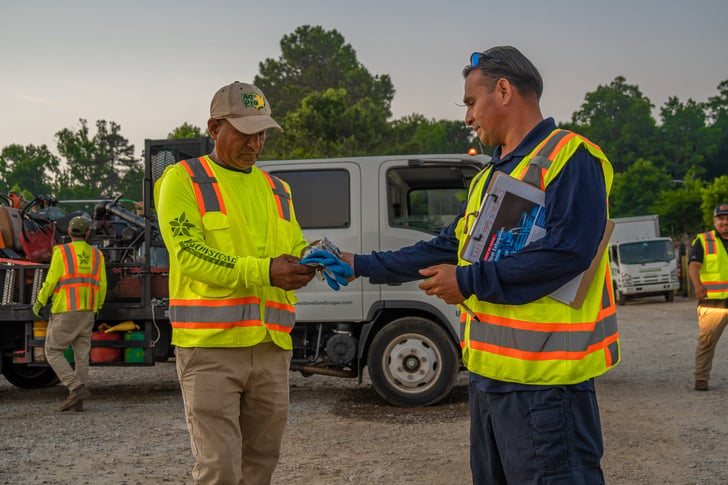 Safety Is In The Hands
Of Each And Every One Of Us
The landscape industry can be a very dangerous business. And we've written about some of the ways we encourage our employees to work safely many times.
Building a dedicated, trained team of Health and Safety Professionals was one of the most important steps we've taken to keep our employees, clients, and guests on the properties we serve safe. But we know it would be a mistake to think that Safety is only the responsibility of our Safety Team. Individual accountability means that each and every employee must ensure they make good, safe decisions every day.
Having the best Safety resources and training materials in our industry isn't enough to keep all 6,000 of our employees out of harm's way. No matter how well-produced our Safety training videos are… regardless of how perfectly designed the Safety posters we hang in our shops… or the number of times we inspect and audit our crews in the field… no one can prevent accident or injury to one of our employees except for that employee.
Improving our company's safety results and preventing the next tragedy will take a commitment to the personal accountability that has been our hallmark over the past decade.
Working safely does require all of us to do our part, but it starts with each individual making a thousand right choices a day, from the second they leave their home in the morning, to the moment they get back home for the night.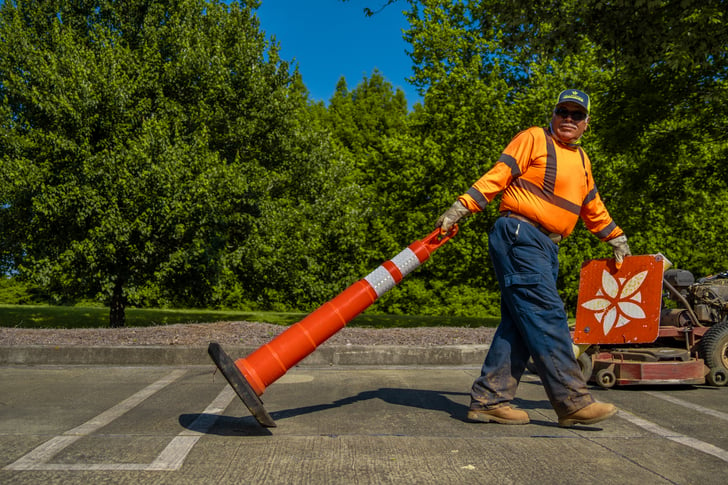 Get Crystal Clear on
Our Clients'
Expectations
The root of nearly every failed client relationship we've had over the past decade has been a lack of clarity on our part about their expectations of us. When we fail to deliver exactly what our clients expect from us, they will move on to find another contractor that will better meet their desires. This is the nature of a service business, especially one where competition is as fierce as it is in commercial landscaping.
So how do we improve clarity around our client's expectations? In our case, this responsibility starts where every new client relationship starts for us - the Sales Team. We know that having a dedicated team of Landscape Professionals, charged with developing new client partnerships is essential for our growth. They are the key drivers of the tremendous opportunities we've created for our team. New clients and new projects create career advancement opportunities of all kinds for our team, along with all the other benefits that growing companies enjoy.
But if we don't take the time to critically evaluate every new client partnership or project that is brought to us, we run the risk of assuming that we know what the client expects from us. And those outside the industry would say, "It's landscaping and snow removal. Don't you just do the same thing for all your clients?". Those of us who have been deeply involved in growing our industry out of this commodity mindset that some clients still hold on to know that nothing could be farther from the truth.
Each client and each property are as unique as snowflakes. Frequency of service, specialty or ancillary services, and client budgets make uncovering and gaining consensus about the client's expectations for each project a necessity that we can't skip over. Our operations teams need (and deserve) all the detail they can get about a client and a project from our Sales team before we ever set foot on that property. Without crystal clear communication from our Sales team, our Operations team would be set up for failure. And we can't afford to let that happen any longer.
So next January and February, when we get our leadership and management teams back together again, these three areas will get a deep dive and a very critical look. To see if we hit the objectives we've set for ourselves in 2023. Success in this new year will mean that we're building a deeper bench, taking individual ownership of Safety, and serving our clients better by meeting their expectations from the start.
If you're the client of a commercial landscape or snow and ice management company and looking for a partner committed to continuous improvement, we'd love to speak with you.
If you're a Landscape Professional looking for an employer that takes your career as seriously as you do, then we want to talk to you, too.
So, cheers to a great 2023! We can't wait to give you an update on how we're performing in these three areas later this year.