Posted by

Joseph Barnes on Feb 15, 2021 9:53:05 AM
When it comes to hotel entrances, first impressions are everything. After all, the exterior look of your hotel is a big part of its overall appeal. And as business and leisure travel begins to pick up again, this is perhaps more important than ever. The front entrance is going to set a tone and will absolutely impact how your guests feel about visiting.

With that in mind, we've rounded up some of the best hotel entrance landscaping ideas that will help you get some inspiration for your property.

Here are some important considerations.
Hotel Landscape Design Ideas Should Translate to Clean, Tidy, and Well-Cared For
It might sound oversimplified but one of the first things that many hotels talk to us about is ensuring that their entrance is clean and debris-free. This boils down to a sense that it's been "well-cared for," which following the worst of the COVID-19 pandemic, has been important.

The difficult truth has been that many hotels might not have been seeing their normal level of check-ins during the worst of the pandemic. But they don't want to appear as though their hotel was completely ignored or even shuttered. This can be the impression that guests receive if the hotel entranceway is messy with overgrown plants or even debris on the ground.

That's why "neat and tidy" are words that we often hear when hotel property managers share their priorities with us.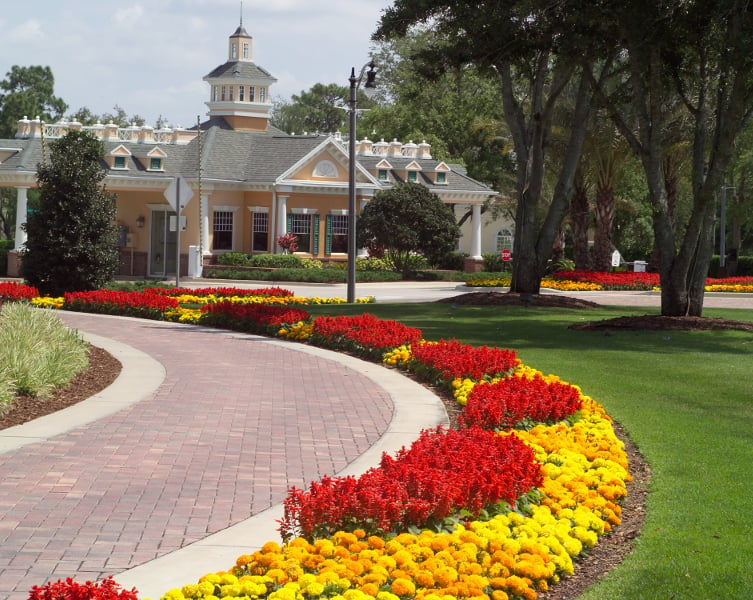 They want guests to see that they've still kept up with optimal care, even during the more difficult times. While this is not exactly a hotel landscape design idea, we wanted to mention it first because of how often it's brought up to us. It's truly at the top of many property managers' lists.

For guests, a well-groomed, neat, and tidy front entrance will translate into a sense that they can still expect the same high-level experience they've had in the past (or that they've read about if they never visited your property before). It sets the tone for the expectations and the experience.

It's also important for those driving by, even if they haven't made reservations. Potential guests are much more likely to stay at a hotel that looks like it's been cared for than one that looks like it has not.
Hotel Landscape Design Ideas Should Wow
Of course, beyond looking cleaned-up and neat, ideally, you're probably looking for hotel entrance landscaping ideas that give off that "wow factor" that people tend to expect when they're visiting a hotel.

Flowers are by far, the best way to provide this element.

Even just a pop of color can enhance a hotel of any size. Whether you are a one-night-for-business type of hotel or you're a resort where families will stay a week, your entranceway can really benefit from an annual rotation with some bright and beautiful colors.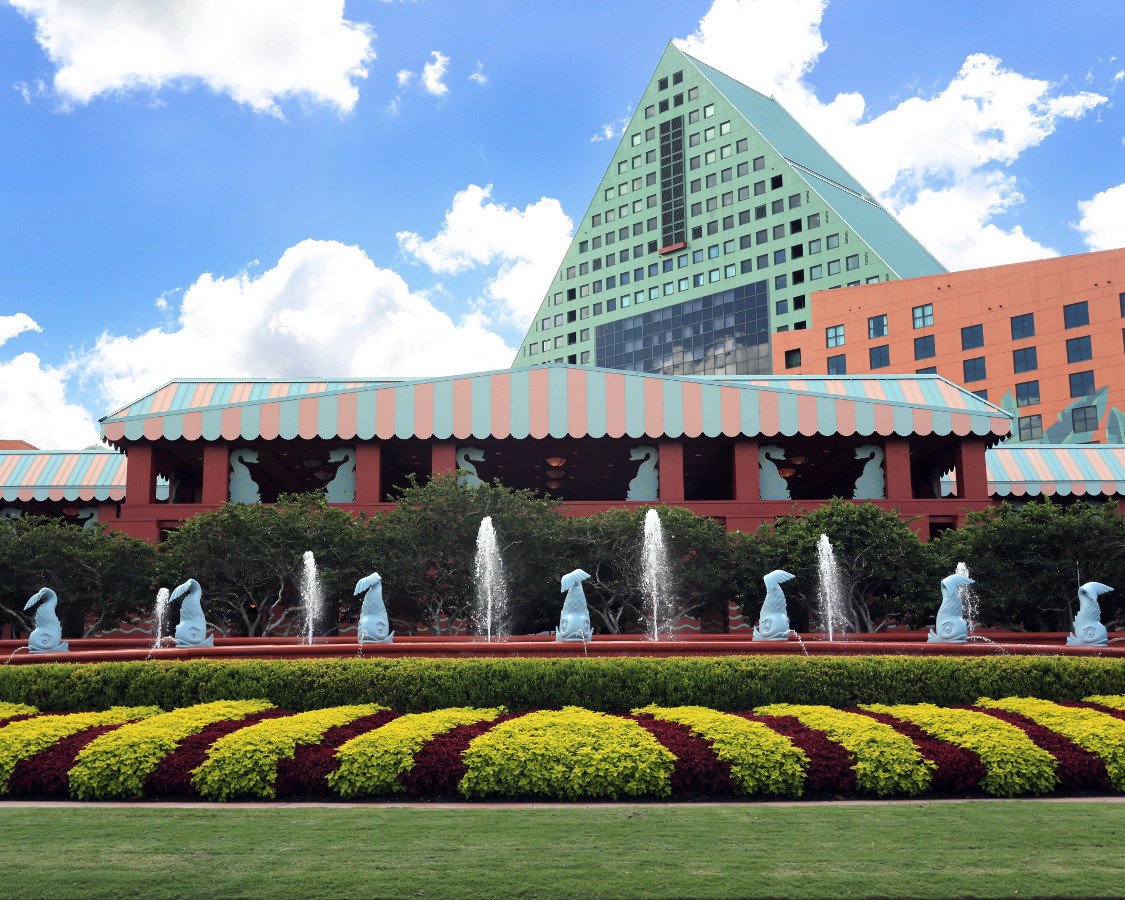 This is another way that your guests' experience will be set in a positive light.

We understand that many hotels have had to alter their indoor experience in many ways in order to keep up with ever-changing mandates and to ensure guest safety. But whether a guest is just coming to stay for the night or will be making their stay longer, they still want to feel welcomed when they arrive at your hotel.

Seeing a beautiful entrance with bright color gives guests comfort that this is going to be a great experience, even if it's different in some ways due to indoor changes that you've had to make.
Hotel Entrance Landscaping Ideas that Aren't Flowers
Without a doubt, flowers are the key element that comes to mind when thinking about entrances that wow. But it's important to mention that not all hotel entrance landscaping ideas have to be about flowers. There are other ways to create an appealing entranceway without blooms.

For one, incorporating gorgeous natural stone boulders can add appeal without adding maintenance work. Boulders can make a statement and look beautiful and interesting at your hotel's entrance. They can also help to make a landscape look more "full" by filling in space without having to add a ton of extra plants, which will require extra care.

Decomposed granite can have the same benefits. Patterns of different sizes and color decomposed granite can be a really interesting way to add a wow factor to your hotel entranceway without having to add more maintenance.

One of the big benefits of using rock in your entrance design is the fact that it will never go out of style. Rock is always going to look like a natural and appealing addition to your entrance design.

Of course, we believe that stone and flowers can work hand-in-hand. You likely still want some color to soften the look. But the more stone elements that you incorporate, the more you'll reduce your maintenance.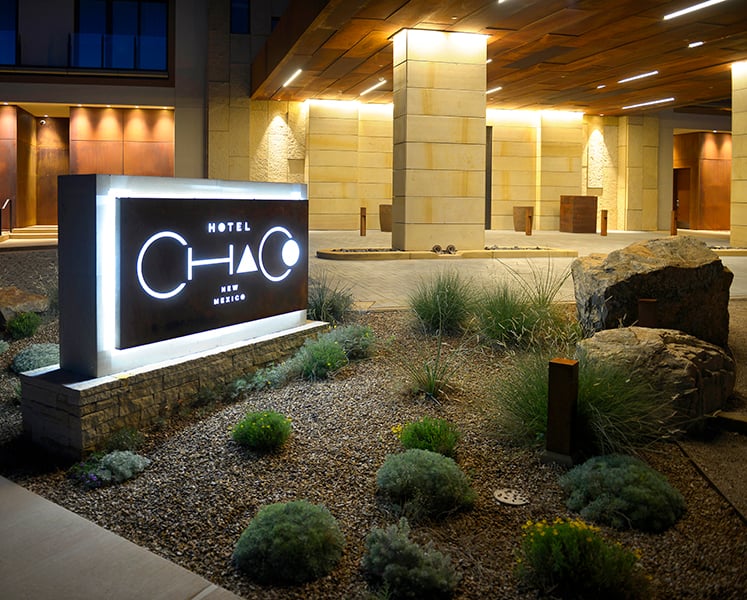 Also, keep in mind that native plants can be a nice addition and not require the ongoing change-outs that will come with annuals (which only last a season). Native grasses or other plants can add some greenery or a little bit of color while also becoming staples of the landscape. One of the nicest benefits of native plants is that are well-adapted to the local conditions and require minimal care to look and perform their best.
Don't Forget the Turf in Hotel Landscape Design Ideas
Finally, we want to mention turf areas as these are also really important in giving off the best first impression of your hotel. Again, it's easy to get caught up in flowers and a spectacular entrance that has some major wow factor. However, the turf areas in your front entranceway are also critical. If these areas look brown, thinned-out, or full of weeds, that's still going to give a negative impression to guests.

In fact, it's also worth mentioning that guests might be using these areas more than ever. People are spending more time outdoors than ever before. With some indoor amenities limited, guests might be looking to spend more of their visit outdoors around your property so it's important that these areas are well-maintained.

The truth is, guests are going to anticipate that the entryway of your hotel has a lush and healthy green turf. In the same way that your hotel's signage or flowers will create an impression, so will your turf areas! Therefore, ensuring that your turf is receiving professional lawn care and optimal irrigation will help keep it performing its best. It's linked to the overall look and feel of the property as a whole.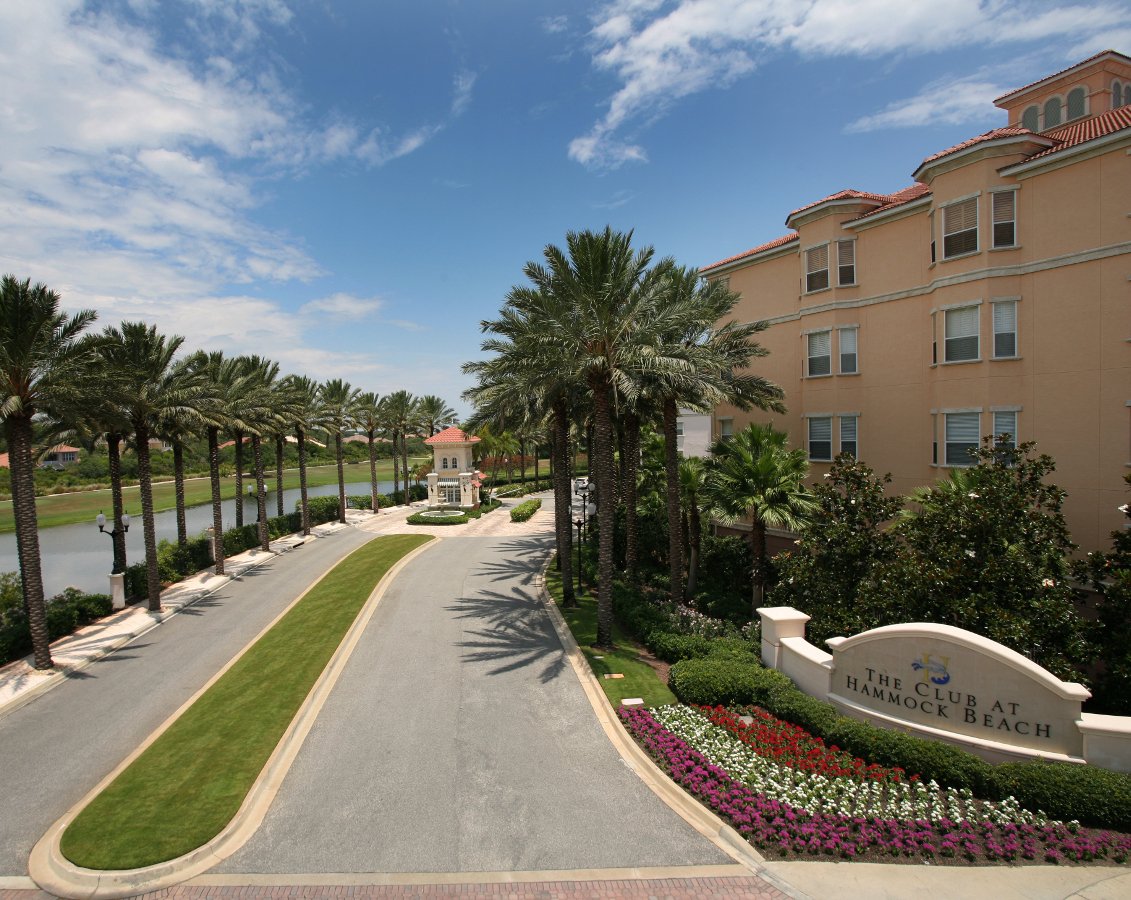 Choosing a Commercial Landscape Contractor with Hotel Landscape Design Ideas
Hopefully, these hotel entrance landscaping ideas will help give you some inspiration for any projects you might be looking to have completed. We know that it's important to you that your entranceway sets the right tone for your guests' experience.

Given the importance of not only the wow factor that we've discussed—but also the fact that ongoing maintenance is key in keeping your property neat and tidy—your choice in a commercial landscaping contractor will be key. While you likely have plenty of companies to choose from in the marketplace, you need to narrow it down to find the best. With your guests' perception of your hotel linked to your property's appearance, this is of critical nature.

We recommend that you take your time to explore your options.

Spend some time looking at the company's portfolio of projects. Don't get caught up on only installation or design/build work but also explore their ability to handle ongoing commercial landscape maintenance projects so that the "always neat and tidy" requirement is fully met, too. Along with that, be sure to choose a partner who understands the importance of your property's landscape—and the fact that if things aren't the way they're supposed to be, it's your job and your reputation on the line.

At Yellowstone Landscape, we understand the magnitude of being tasked with handling your hotel property. We want to be a valued partner that will help you achieve your goals and maintain the integrity of your role.

We know that finding the right partnership gives you confidence that your hotel will not only have a stunning entrance, but will have an impeccably maintained property that gives guests the experience they're seeking. Their time at your property should be a memorable one from the very moment that they pull up to it. When this is the case, you come out the winner.

Are you ready to feel confident in making a wise choice for hotel entryway landscaping, and beyond? Request a consultation today. We'll meet to learn more about your property and its challenges and come up with a comprehensive plan to take care of all of the details for you.