Posted by

Joseph Barnes on Sep 11, 2020 8:31:00 AM
First impressions are everything. You know this in life and business and frankly, it's no different when it comes to the appearance of your HOA property. What people see as they drive by (or when they first enter) can make all the difference in the world.

That's because your HOA entryway landscaping is the gateway that sets the expectations for the property as a whole. Whether it's attracting new residents or just helping to maintain the overall value of all the homes that make up your HOA, the landscaping around signs at a residential community does make a really big difference in how the community is perceived at large.

If you're thinking about adding or changing anything at your front entrance (or perhaps you have a brand-new community) then you might be looking for HOA entryway landscaping examples.

We've rounded up four examples in different parts of the country that just may give you some inspiration for your own project.
1. The Peninsula in Charlotte, NC
The Peninsula is a resort lifestyle community in Charlotte, NC featuring 850 homes, including many large estate homes along the lakefront. This is a classic golf course community which also features a private tennis and yacht club, and residents (and potential residents) expect to see colorful annuals and beautiful natural stone monument signs that showcase the property's natural beauty.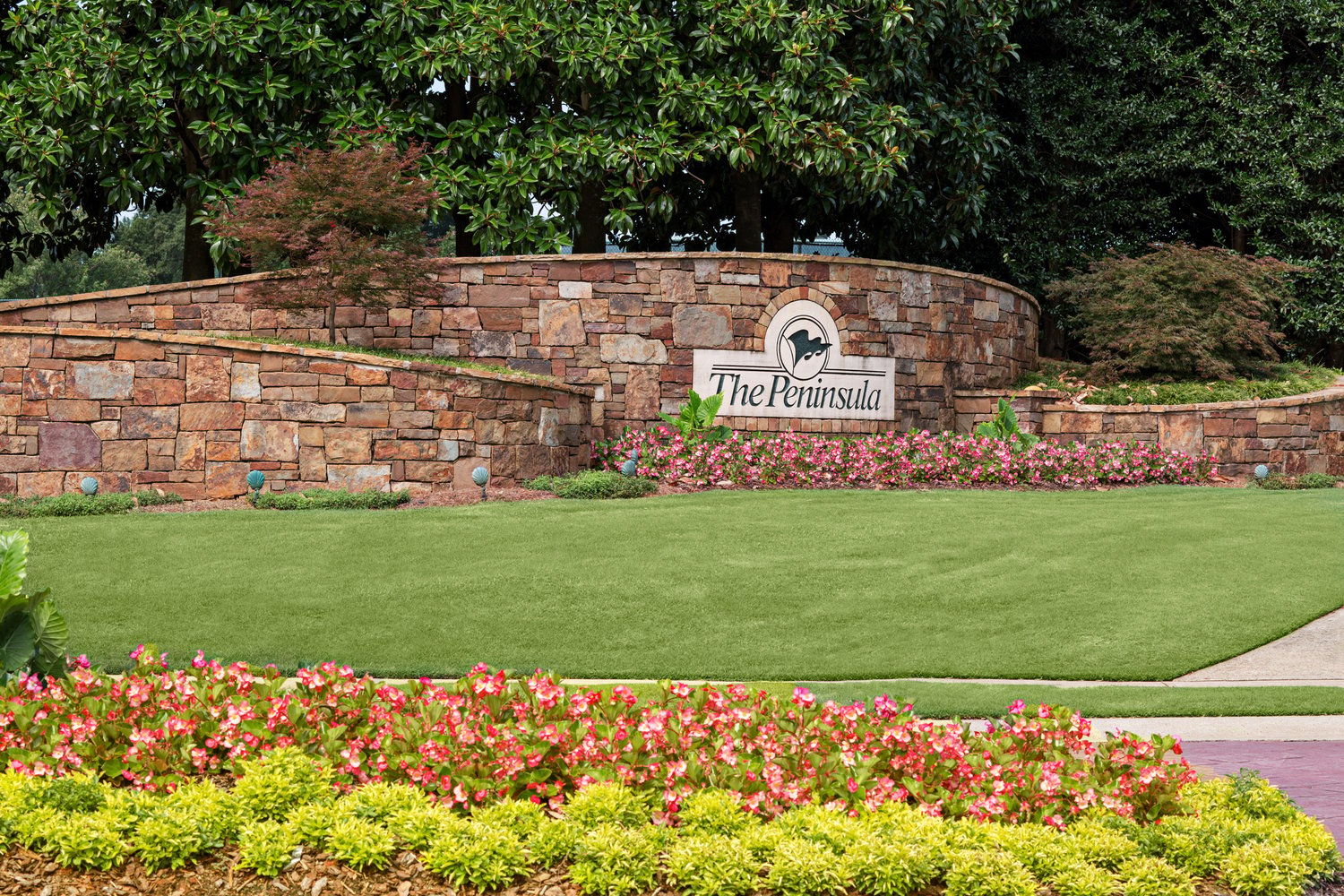 Of course, being a golf community, the turf at the entryway is also of vital importance. Residents and prospective residents alike anticipate that the entryway has a lush and healthy green turf. This is a great HOA entryway landscaping example of how important the overall health and appearance the turf can be in setting the tone.
2. Valencia Cove in Palm Beach, FL
This large-scale community features a larger-than-life entryway with huge monument signs, jets spraying water, vibrant green turf, and large, colorful annual plantings and towering, mature palms. It sets the tone for a grand experience and that's what residents (and prospective residents) have with access to a spectacular clubhouse, a fitness center, 4 resort-style pools and cabanas, and so much more.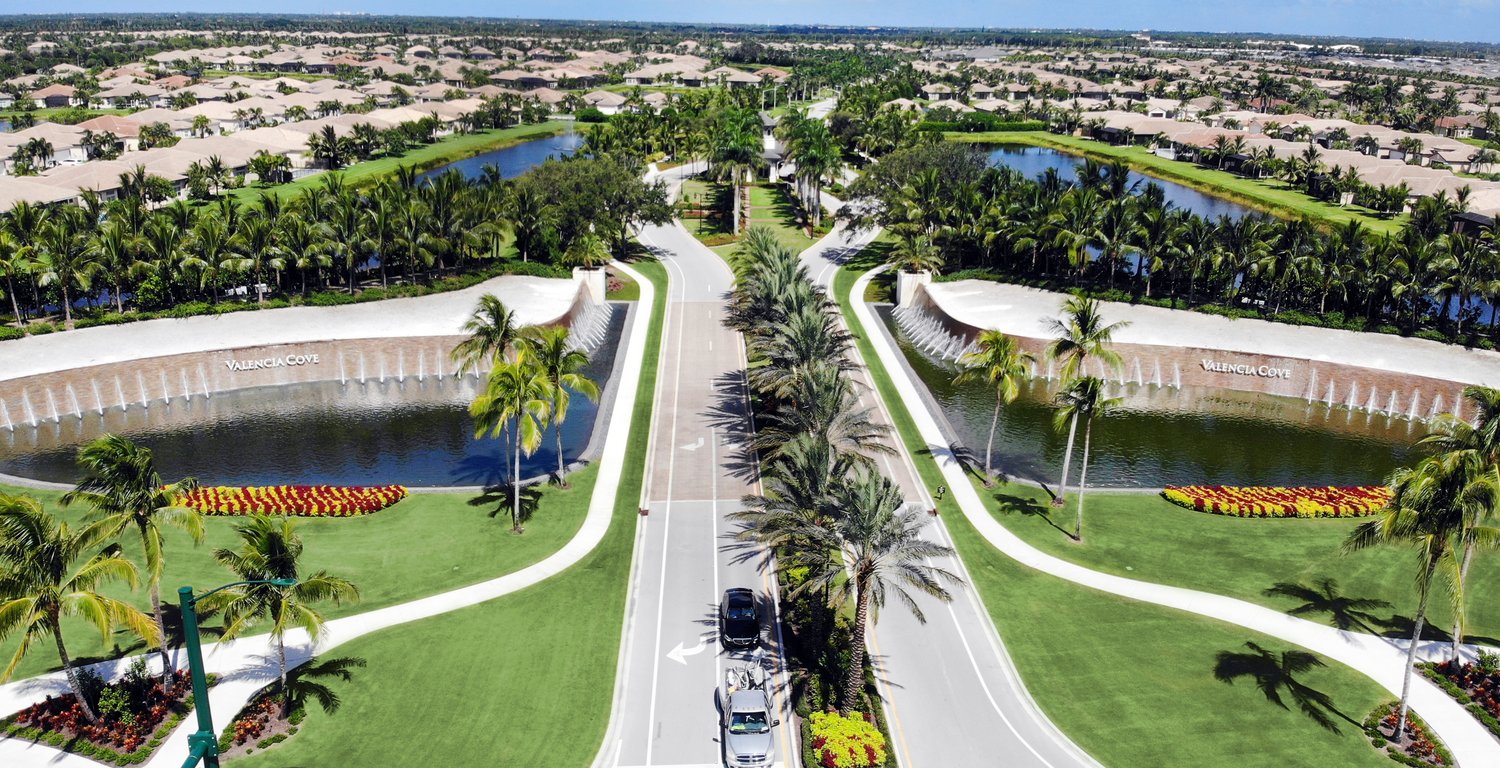 This HOA is all about the luxury lifestyle and it's important that the HOA entryway landscaping conveys this experience from the moment that you enter. As soon as you drive onto the property, you feel more like you're entering a beautiful resort than a residential community.

This is a great HOA entryway landscaping example of the way in which landscaping can truly set a mood or a feeling that can impact the overall experience.
3. Del Webb at Lake Oconee in Lake Oconee, GA
This active adult community is less than two hours for Atlanta but is located near the lake where residents (and potential residents) are looking for nature-inspired luxury. It has a resort-like atmosphere and the landscaping must help set the tone. The community is situated amongst rolling hills that feature towering pine trees.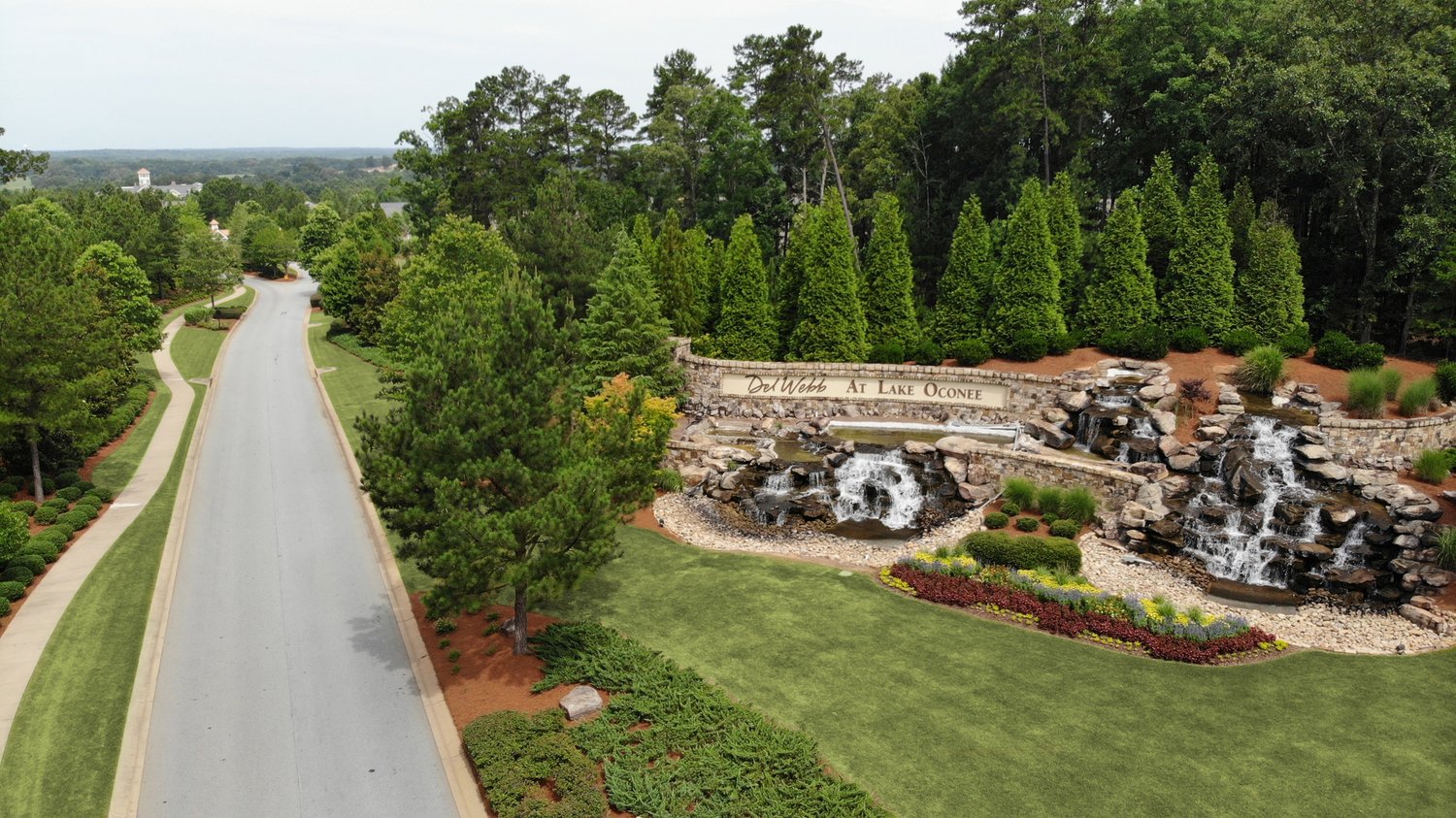 This HOA entryway landscaping definitely takes its cues from nature with cascading stone waterfalls, native trees, vibrant turf, smaller annual planting beds, and pine straw beds along the parkway.
4. Mirehaven in Albuquerque, NM
Another privately gated active adult community, Mirehaven is located in Albuquerque, NM and features an amenity center with a state-of-the-art fitness center, resort-style pool, spa, sports courts, and more.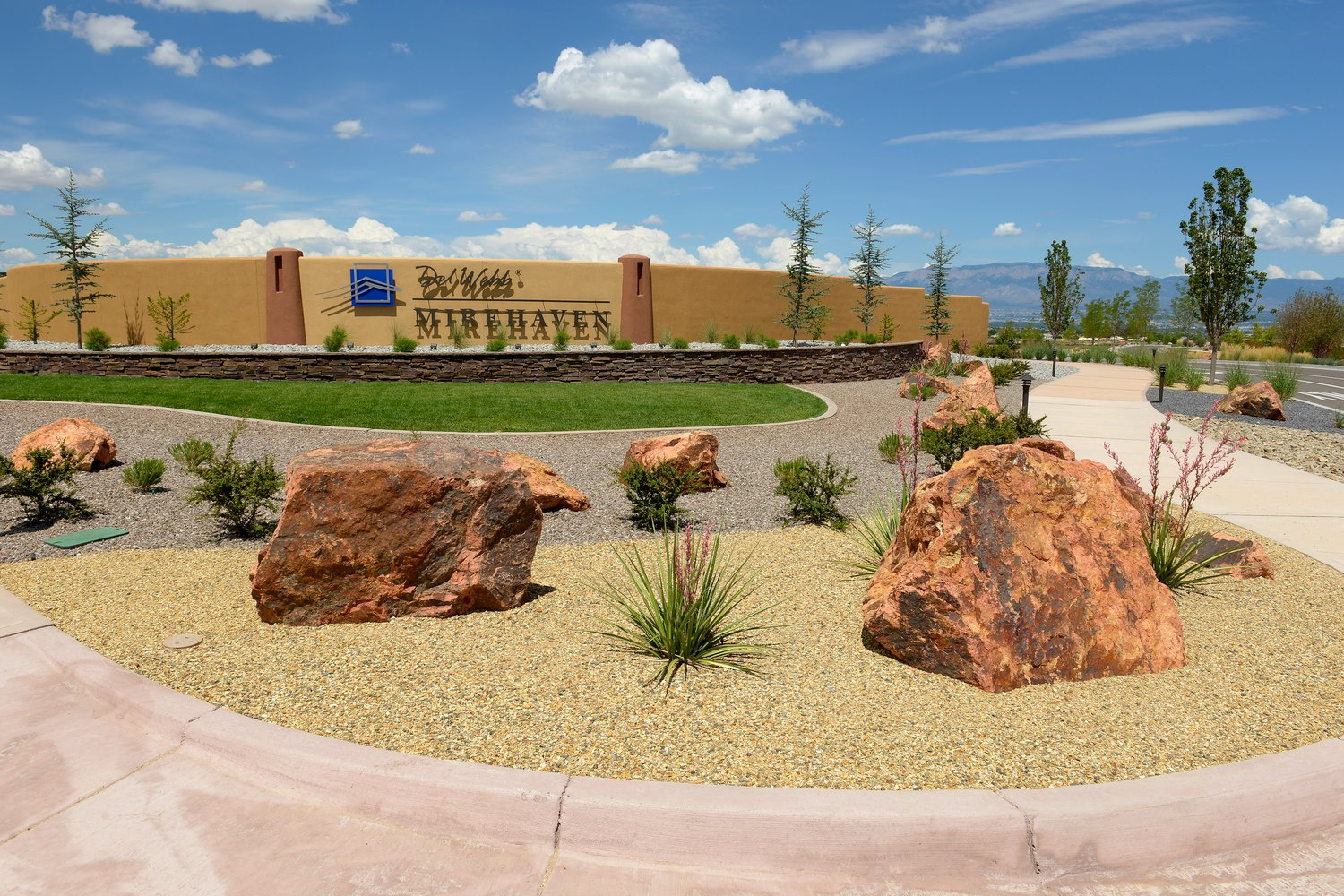 Given its location in New Mexico, this is a great HOA entryway landscaping example of highlighting the beauty of the desert. It incorporates gorgeous natural stone boulders from surrounding mountains, patterns of different size and color decomposed granite, and lots of native plants and grasses.
Carrying the Tone of HOA Entryway Landscaping Throughout the Community
We understand that choosing a commercial landscape provider to complete your HOA landscaping is no small feat. After all, you not only want a company that can design and build a beautiful front entryway, but you want one that you can trust to maintain the community as a whole. You know that your entryway landscaping is critically important but it's ultimately only one piece of a larger puzzle.

After all, the front entryway sets the tone, so prospective residents will expect that they see the same high-level of landscaping throughout the community.

If you have gorgeous landscaping around signs at a residential community, but the community is made up of properties with overgrown grass and untrimmed trees and shrubs, then the property value is still going to decline. You won't be able to attract new residents if you can't maintain their high expectations as they drive through the community. You know that a beautiful entrance will never make up for poor landscaping everywhere else.

That's why when you are hiring a commercial landscape vendor, it's important to make sure that you're looking for a company that will take that same high-level approach to their maintenance work that they value for their design/build projects. This consistency is going to be really important when it comes to maintaining the tone that you've set with your spectacular front entryway.

Although it's easy to get caught up with the grandeur of front entrances—we, too, really love a gorgeous design—it's just important not to lose sight of the big picture. Although it's not as visible or exciting, commercial landscape maintenance is just as important as landscaping installation work when it comes to your HOA property's value (as well as its reputation).
Choosing a Commercial Landscape Contractor for your HOA Entryway Landscaping—and Beyond
Hopefully these HOA entryway landscaping examples have gotten your wheels turning and given you some ideas that might be able to be applied to your own community. While there's no question that each and every property is unique, it's always helpful to take inspiration from other places in the process of determining what will work best for your community.

Now, you may be tasked with finding a company that is up for the job and as we mentioned, that's no simple feat. You likely have plenty of companies in your market to choose from and you'll need to narrow it down to find the best.

Take your time as you explore your options.

Look at the company's portfolio of projects but don't get caught up on installation or design/build work alone—also explore their ability to handle ongoing commercial landscape maintenance projects. Choose a partner who will keep prospective and current residents happy with the community as a whole, not just when they pass through the entrance.

At Yellowstone Landscape, we understand the magnitude of the task involved in choosing a commercial landscaping company to partner with your HOA, which is why we've provided helpful content which will help you better understand the companies you're considering. This includes asking the right questions to know who the company employs as well as understanding the type of proposals you will receive when you put the job out for bid.

Ultimately, we understand that knowing some of this behind-the-scenes information will elevate your position as an educated consumer, and help you to make the best possible choice for your community.

That means you can gain confidence that you're not only going to have memorable HOA entryway landscaping but also meticulously maintained grounds that maintain the high standard you've set at the entrance. We believe if you're putting in all of this time to research, you deserve nothing less than the best all the way through your community.

Are you ready to feel confident in making a wise choice for HOA entryway landscaping, and beyond. Request a consultation today. We'll meet to learn more about your property and its challenges and come up with a comprehensive plan to take care of all of the details for you.