Posted by

Joseph Barnes on Dec 29, 2020 11:00:00 AM
No, seriously, in the lawn and landscape industry, commercial robotic lawn mowers are on the market and creating new opportunities for many commercial landscaping companies.

As you probably already know, the robotics revolution is in full swing and machines are already handling plenty of everyday tasks in so many different areas of our lives. They're cleaning big stores, monitoring traffic, running factory assembly lines, and so much more. For that reason, it's probably no huge surprise that the world of robotics is now coming to the lawn and landscaping industry, too.

So, what does that mean for your commercial lawn?

Are you ready for commercial robotic lawn mowers?

We find that a lot of customers have questions and some valid concerns about what robotic lawn mowers in a commercial setting would look like—and what they're capable of. The truth is, right now it's still a relatively limited field. But as with any new technology, that's going to change (and likely change soon). So we're staying on top of that evolution, and actively participating in bringing these machines to the properties we serve.

Here's what we know now and what we'd like you to know about the future of autonomous technology in commercial landscaping.
We're in the Testing Phase of Robotic Lawn Mowers
First and foremost, you should know that we're currently still in the testing phase of using robotic mowers. We're testing different mowers and what they're capable of—including where they'll work best.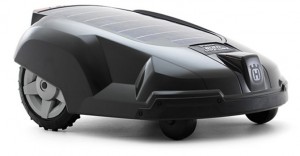 One misconception that we often come across when talking to folks about robotic lawn mowers is that they're going to have something like an army of "Roomba" style mowers out on their property. If you know of someone who has hired a company offering home robotic mowing services, then you also know that these mowers "live" at their home. Instead of having a mowing crew come out once a week, the small robotic mower comes out daily, mows a portion of the yard, then returns to its charger until it's ready to mow again.

While that might be what the residential mowers look and act like, on a commercial level it's going to be quite different.

For one, our robotic mowers will be part of our fleet and not live on the properties that we service.

Plus, in the beginning, it's unlikely to be a completely autonomous machine. Some of the mowers that we are testing are operated by remote control. But they can handle really large areas of turf that might be difficult to access otherwise. For instance, a property with a really steep slope where we could never bring a commercial mower with a person driving it. A robotic machine, without a driver on board is perfect for this type of scenario.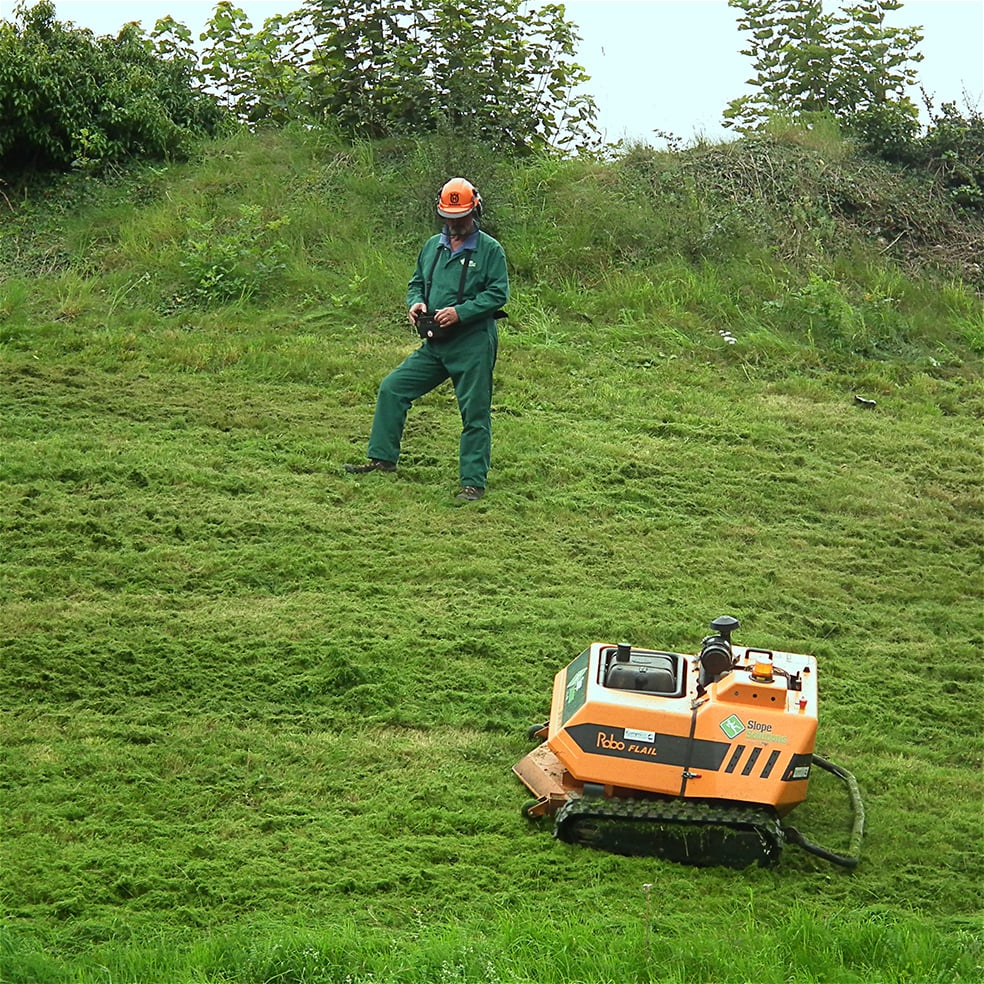 You're also likely to start seeing machines that operate on their own within digitally "roped off" areas using GPS technology, while the rest of the crew members tend to more complex areas and perform detailing services like pruning shrubs or edging hard surfaces. We're finding that the best application for commercial robotic lawn mowers right now is in large turf areas with simple mow patterns.
Will I Ever Have a Robotic Mowing Crew?
Our goal at Yellowstone Landscape is not to replace the dedicated and valuable Landscape Professionals on your property with robots. And from what we see, the technology has decades to go before that idea would be anything more than science fiction fantasy.

But as with other industries, robotics can help enhance what our landscape crews are able to accomplish during a service visit.

In other words, it will free up the crews to do more high level, high detail tasks. They'll still be there, but instead of having to spend time mowing these massive open turf areas, maybe they're now shifting their attention to caring for the plant beds.

The truth is, finding the labor force we depend upon has been the biggest challenge that our company (and the landscape industry in general) has faced for decades now. It's harder and harder every year to find qualified people who want to perform this essential and necessary work.

By delegating the most straightforward mowing tasks to a robotic mower, our landscape professionals can now focus on utilizing their skills in more intricate areas.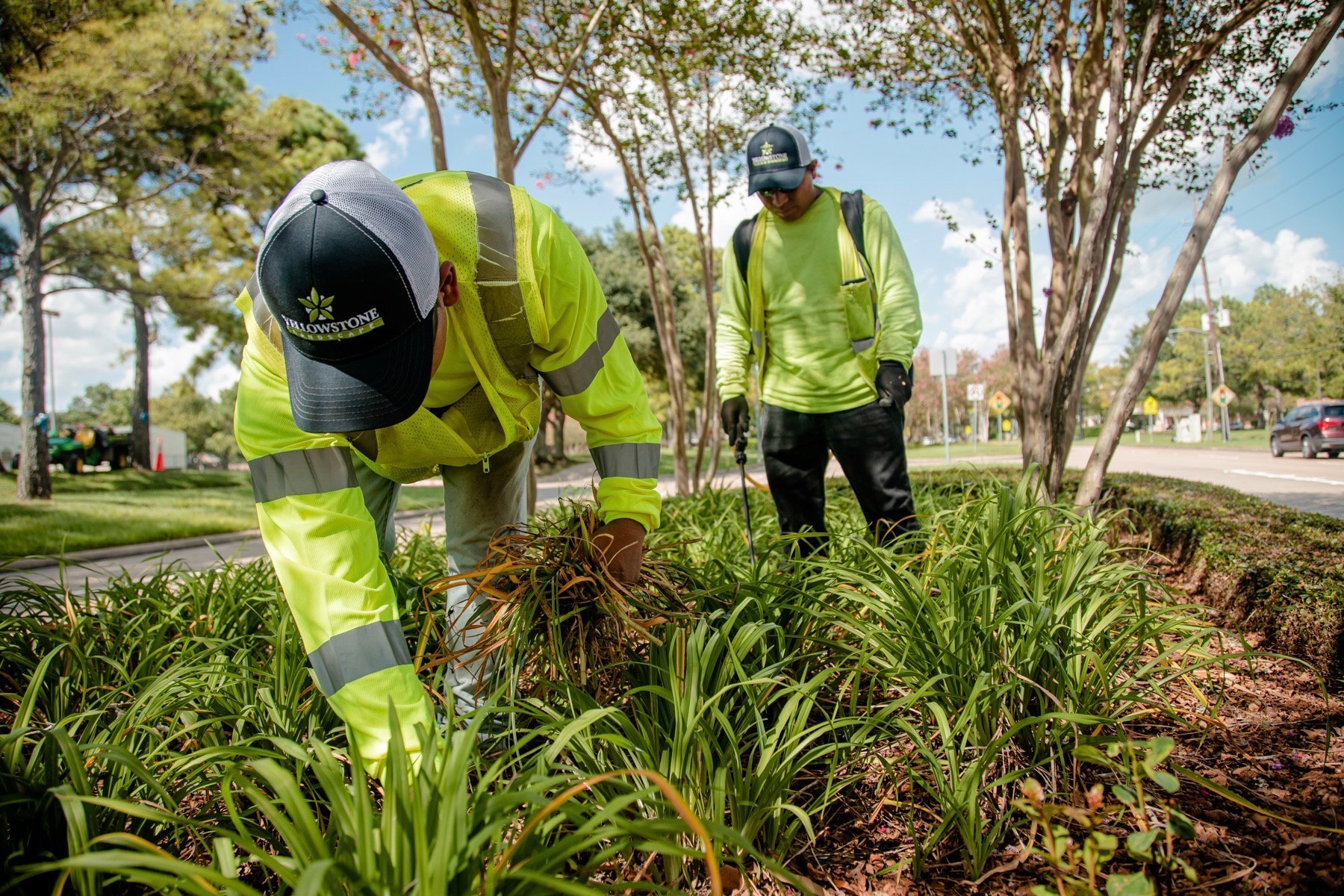 Will Robotic Lawn Mowers Cost More?
Our plans for introducing robotic mowers into our fleet is not with the intention of charging customers more money, but rather to find a way that we can boost our efficiency and overcome the labor shortages facing our industry.

There's obviously some give and take, here. We might save some cost on not having to pay for as large a crew, but obviously the robotic mowers themselves are not an inexpensive investment. But we see it as an investment that can help make us stronger and help us continually improve for our clients.

So, no, we don't expect that the cost of implementing commercial robotic lawn mowers will result in any significant pricing changes for our clients. Rather, this is a way for us to continue to offer the best possible service and results by enhancing our crew with some basic levels of automation.

There are so many factors and considerations that go into pricing landscape costs, but ultimately, it will always come down to the amount of time that we spend on your property. If these robotic or autonomous mowers make us that much more efficient, that could ultimately translate to cost savings down the road.
The Future of Robotic Lawn Mowers
Right now, robotic mowing technology is still new. As with technology in general, it's advancing quickly and the robotic mower prototypes that we saw a few years ago have already advanced so much.

So, who knows what the future will look like? Maybe one day our industry will look like something out of the Jetson's. But for now that still seems about as likely as flying cars and jetpacks.

For now, we're keeping our feet on the ground and keeping up with the technology as it evolves.

As a company, we've always felt it was important to keep up with what was new. We know that robotic mowers are going to be an important part of our future and we want to stay on top of the technology now, as its being developed.

Keeping up with new ideas and technology and what's coming down the pipeline in our industry helps us to continually improve. It helps us stay on the cutting edge—in this case, pun intended!

That allows us to continue to offer our customers the best. Robotic lawn mowers can play a valuable role in helping us to overcome an industry-wide labor shortage so that we can ensure our clients receive the top-notch service and results they've always expected.

Do you want to work with a landscape company that's staying on top of what's new? Request a consultation today. We'll meet to learn more about your property and its challenges and come up with a comprehensive plan to take care of all of the details for you.
Image Source: Robotic Mower on Slope, Robotic Mower