Posted by

Joseph Barnes on Jan 10, 2022 1:59:21 PM
Improving your property's appearance and efficiency can be as simple as adding planting material. But which one is right for you?
You have several material types to choose from during the selection process, including mulch, river rock and decomposed granite.
So, you should weigh the pros, cons, cost considerations and sustainability concerns before deciding which is the best mulch for landscaping on your commercial property.
Mulch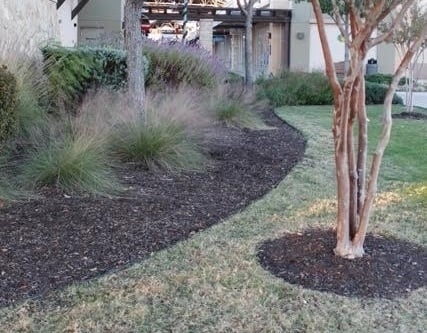 Wood mulch is probably the most common material when it comes to landscape beds and works well with most landscape designs.
The least expensive option of the three, wood mulch works well to keep weeds from sprouting without having to use a weed barrier.
You can get the mulch in a variety of colors, including red, brown, black and tan.
Mulch can also be dyed to pretty much any shade, but that can make it look less natural.
The mulch helps hold in moisture, which is helpful with the state's drought season. That will help cut back on water usage and costs, as well. The wood mulch also provides organic matter to the soil.
There are some downsides to mulch, however. It breaks down and needs to be top-dressed every year. Mulch also gets displaced easily by heavy rain, and it isn't good on steep slopes.
Mulch is the cheapest of the three material options.
River Rock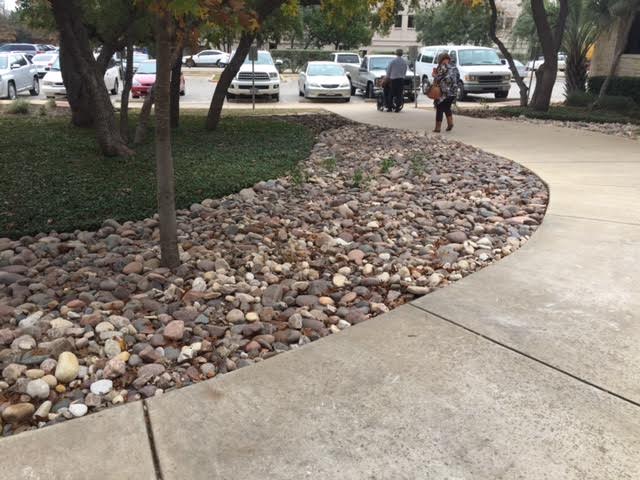 If sustainability is your top concern, consider using river rock on your property. The rock can help slow down water from eroding parts of the landscape. It's the most sustainable of the three and is not likely not to be displaced by rain.
Washed river gravel rocks are about ⅜ inch in size and can be used for a variety of projects, ranging from paths and walkways to concrete work.
These rocks can be washed clean with a water hose. You can also use the rocks as a border for landscape beds and even as mulch. These come in a variety of earth tones.
While it does have its benefits, river rock is expensive. The material also needs a weed barrier underneath it and is difficult to plant in. The river rock also gets hot and reflects sunlight.
The most expensive of the three, river rock costs about 2.88 times more than mulch.
Decomposed Granite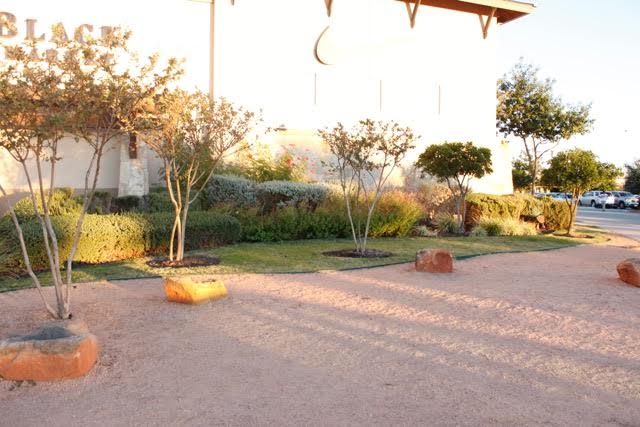 Most commonly used for trails and pathways, decomposed granite is a good option for landscape beds. It also packs well between patio stones and has a pinkish tint.
This material is more sustainable than mulch and provides good drainage.
It also creates a smooth surface for foot traffic and is a good accent material to use with large boulders in the landscape. The decomposed granite is screened to meet ¼-inch minus specifications.
While granite is good for walkways, it can stick to shoes. It also needs to have a weed barrier underneath it. Granite is susceptible to being washed away with hard rain, and it needs to be top-dressed every so often.
And decomposed granite costs about 1.83 times more than mulch.
The Best Mulch For Landscaping Should Add Aesthetic Value
All three of the materials have different aesthetic purposes that work in most landscape designs. So, you can pick one, two or a mix of all three to add to your landscape. There are no set rules on when to use one over another.
Mulch, river rock and decomposed granite can add aesthetic elements to your property, which will attract more visitors. Plus, the best mulch for landscaping your Texas property can also make your site more sustainable.
Figure out what you want and need on your property, and talk with a commercial landscape maintenance company to see what they suggest.
Yellowstone Landscape is a commercial maintenance landscape company located in Houston, Austin and McAllen that offers a full list of services like installing mulch for landscape beds and low-maintenance plant materials.