Posted by

Joseph Barnes on Jul 19, 2021 11:29:04 AM
It's hard to shake a bad first impression.

This is true for meeting people but it's also true when it comes to seeing a business, home, or other type of commercial property for the first time.

That means that what people see the first time they drive by your commercial property (or maybe the first time they pull in), will stick with them and set a tone for how they feel about your space. If you aren't keeping up with your landscaping, you could be turning away potential tenants, business, or more.

If you're worried about the impression that your front entrance is making, and you're thinking about adding or changing it, then you might be looking for entryway landscaping ideas.

We've rounded up some great ideas that will hopefully give you a little inspiration for your commercial property.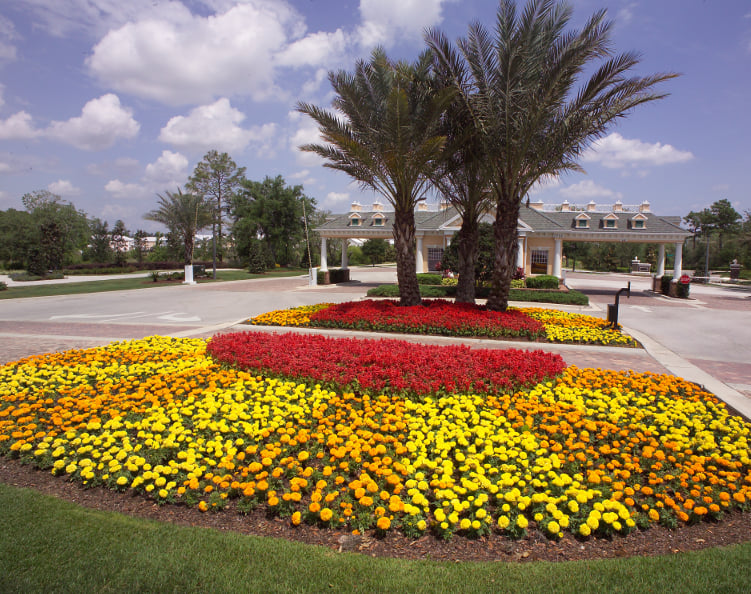 1. Landscaping Around Signage Should Accent It (Not Cover It!)
Landscaping around signage is really important because it's such a great way to proudly show off your commercial property. Beautiful flowers and some appropriate landscape plants help to create a great first impression, while giving that "wow" factor that you're looking for.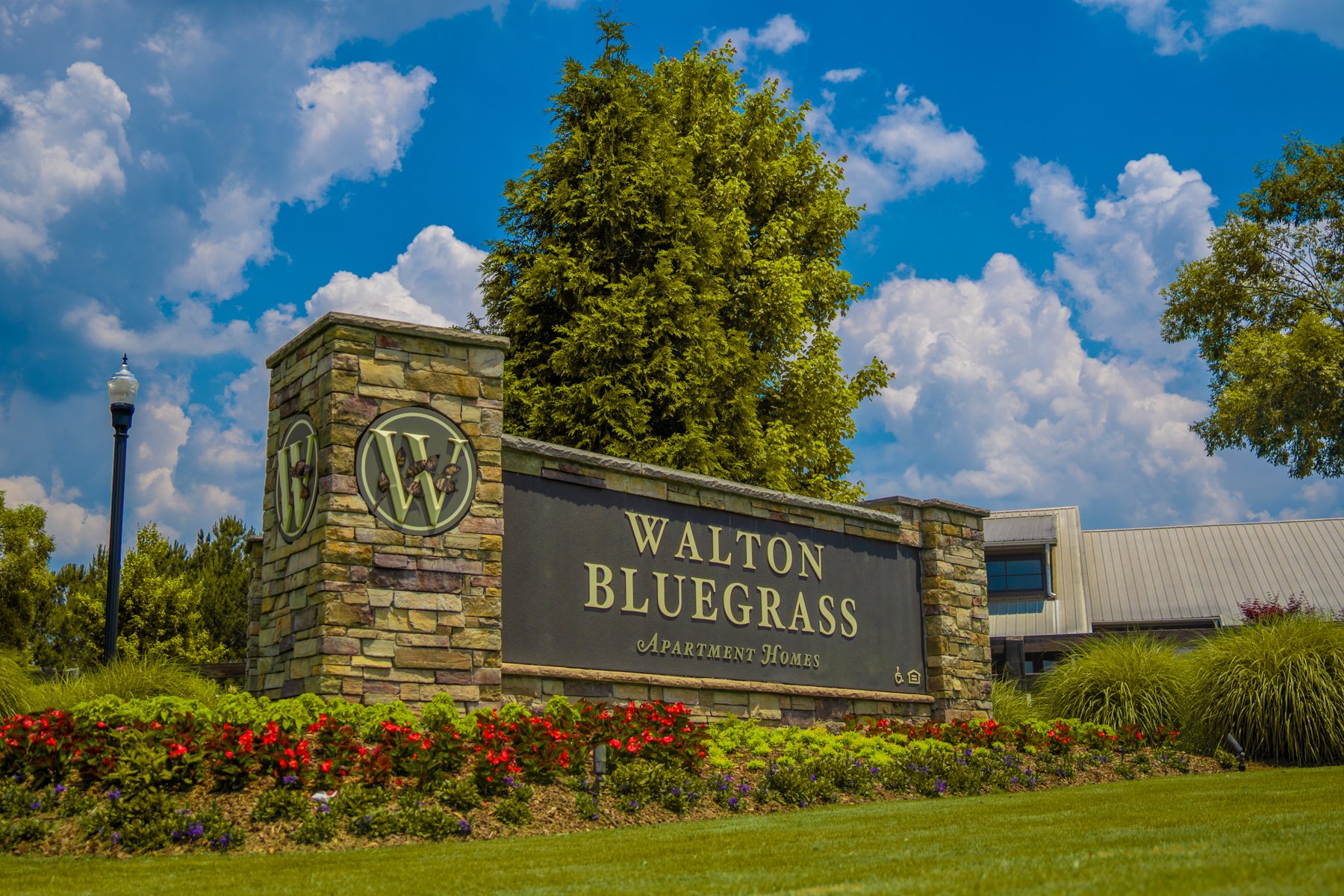 But when you're thinking about landscaping ideas around business signs, you want to ensure that anything you choose does not detract from your signage too much. Smart planting choices are key. If you're choosing plants that grow really tall or full, such that they start to cover the sign itself, then it defeats the purpose altogether. Now, instead of accenting the sign and calling attention to it, the landscaping makes the sign difficult (or impossible) to even read.

It can also start to look messy and unkempt, as though nobody is caring for the landscape. The last thing that you want is for your landscaping to somehow have a negative effect. That's just as bad (if not worse) than having no landscape at all.

Your investment in landscaping around signage should be working for you, not against you.
2. Entryway Landscapes Should Wow
More than anywhere else on your property, front entryway landscaping should be all about the "wow." This is going to be the most frequently seen spot on your commercial property—plus, it is the area that is most important to create that positive first impression.

It should be impressive.

After all, it sets the tone for how people are going to feel about your space. So, you deserve to see it in a positive light.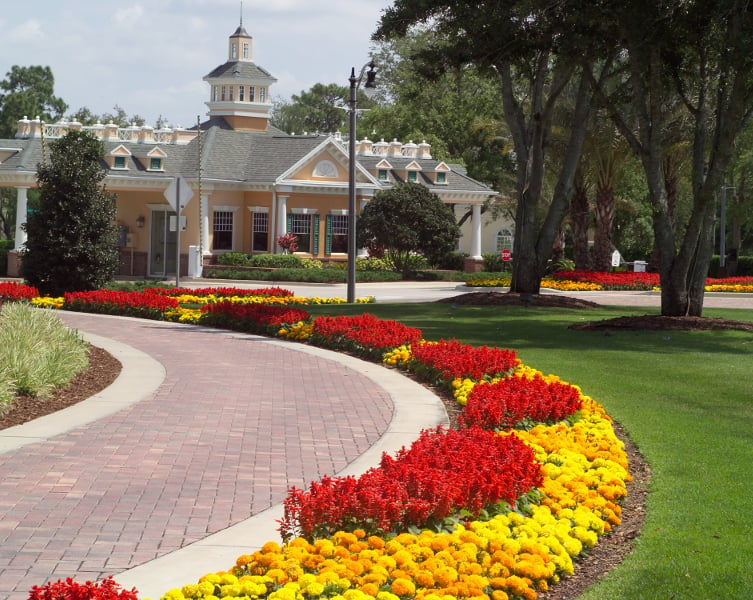 Seeing a bright and beautiful front entrance is so much more welcoming to visitors. It conveys that your property is one that is well-cared for and thoughtfully managed. And with so much more emphasis on outdoor spaces since the Covid-19 pandemic, your front entrance is arguably more important than ever.
3. Front Entrance Landscaping Can Be More Than Flowers
Without a doubt, flowers are a key element when it comes to front entrance landscaping. Their gorgeous color and their blooms add the appeal that most people love. And seasonal flower rotations are immeasurably valuable to creating an appealing front entrance landscaping.

However, that doesn't mean that all of your landscaping accents have to be flowers.

When considering landscaping around signage, where you want to make a big impact and draw attention, flowers make a lot of sense. But if you have large plant beds at your front entrance, you don't have to fill every single bare spot with blooms.

There are other ways to create appeal without flowers.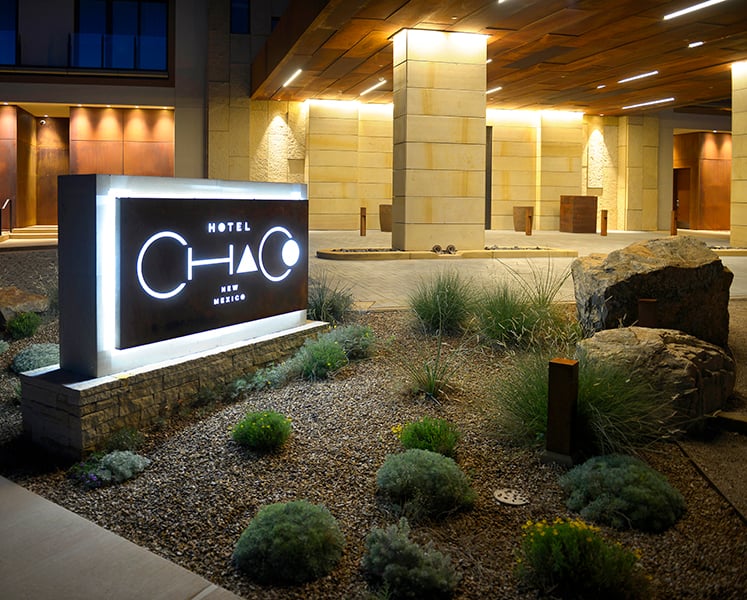 For one, incorporating gorgeous natural stone boulders can add aesthetic appeal without adding maintenance work. One of the benefits of boulders is that they look great but they don't require any upkeep or care. They can make a statement at your front entryway and also "fill in" space without adding a ton of extra plants that will need to be cared for.
Decomposed granite is also a great addition to front entrance landscaping. Patterns and designs using different sizes and colors can be a really interesting way to add some wow factor without adding flowers or new plant material. And like larger boulders, decomposed granite doesn't require any maintenance.

An added benefit to adding rock is that it is something that will never go out of style. Rock is always going to be a natural and appealing addition to your commercial property, and that means you're getting a lot of lasting value in the upfront investment.

Of course, stone and flower can work together. You'll likely still want some color to soften the look. But the more stone you incorporate, the more you'll reduce your front entrance maintenance needs.
4. Front Entrance Landscaping Can Include Native Plants
Another great choice for the front entrance of your commercial property is native plants.

One of the big benefits of native plants is that they will reduce your watering costs. Native plants are already naturally adapted to the local conditions, making them a water wise choice. They won't require as much supplemental water to thrive.

Native plants are also valuable in that they won't require ongoing change-outs like seasonal flowers. Annual flowers are gorgeous and colorful, but they'll only give you one season. Ideally, a mix of both native plants and some annuals can give you the best of both worlds.

Native grasses or other plants can add some greenery or even a little bit of color while also becoming a staple of the landscape that won't need to be replaced.
Carrying the Tone Throughout the Entire Property
While there is no question that landscaping ideas around business signs are important, you can't neglect the rest of your landscape and still expect to maintain a great impression. The front entryway sets the tone, but now tenants, guests, and visitors have an expectation that the rest of your commercial property is going to look great, too. If you have gorgeous landscape at your front entrance, but the rest of the property is made up of overgrown grass and untrimmed trees and shrubs, you lose any of the benefits you gained from drawing people in the first place.

That's why when you are hiring a commercial landscaping provider, you want to make sure that they'll take the same high-level approach to their maintenance work as they did for any design/build projects (like front entrance landscaping). It's all important. Consistency is critical when it comes to maintaining that tone you've sent with an amazing front entrance!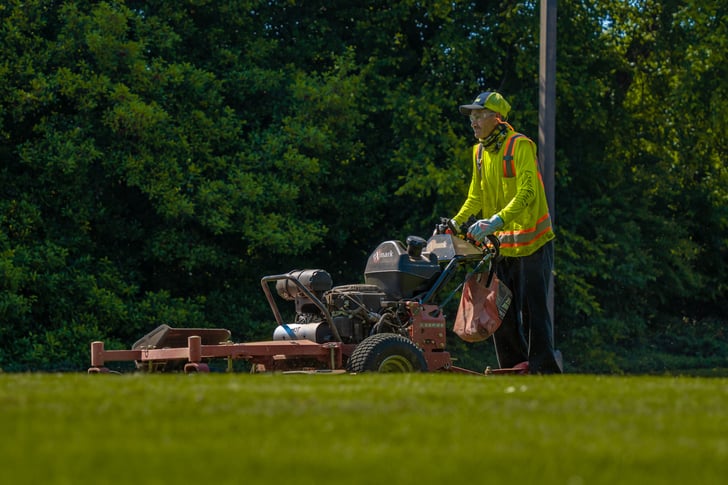 While it's easy to get caught up in the grandeur of an amazing front entrance, you don't want to lose sight of the big picture. Although it's not as visible or as exciting, your ongoing commercial property maintenance will also be key in continuing to build upon the great first impression that you set with your entrance.
Choosing a Landscaping Partner for your Commercial Property Front Entrance (and Beyond!)
Hopefully these entryway landscaping ideas have given you some helpful thoughts on how to enhance your commercial property. Now, you just need to find the right commercial landscaping provider to make those ideas a reality. You'll surely have plenty of companies to choose from, but you need to find the best.

Don't rush into the process. After all, you want to choose a professional who can not only install but also maintain your commercial landscape from the front entrance to the back corners of your property.

As you explore your options, we even recommend visiting your landscaper's shop so that you can get an honest and real-life look at how they operate.

At Yellowstone Landscape, we understand the magnitude of the task involved in choosing a commercial landscaping company to partner with your commercial property, which is why we've provided helpful content which will help you better understand the companies you're considering. This includes understanding the type of proposals you will receive when you put the job out for bid.

All of this comes down to setting you up for success. We want to see you succeed when it comes to partnering with a landscaping company to care for your commercial property.

When you choose the right commercial landscaping partner, you gain confidence that not only will you have a memorable front entrance, but you'll also have meticulously maintained grounds that help keep your tenants, guests, or residents happy.

Are you ready to feel confident in making a wise choice for commercial property entryway landscaping, and beyond. Request a consultation today. We'll meet to learn more about your property and its challenges and come up with a comprehensive plan to take care of all of the details for you.