Landscaping for senior living communities is more important than ever before. With the senior living segment being called the fastest growing area of commercial real estate, families of aging loved ones have a lot of choices when it comes to choosing a long-term community. For many of these folks, the grounds of the various communities they visit are going to be an important consideration.

Having meticulously well-kept, beautiful grounds can be a differentiating factor and is an opportunity not to be missed. But most important of all, when considering a commercial landscaper for this type of work, you want to find one that keeps safety at the forefront of everything that they do.
For Yellowstone Landscape, an excellent example of all of this is Well-Spring Retirement Community in Greensboro, North Carolina.

This premier continuing care community has the entire gamut of offerings—active senior living (fully independent), assisted living, skilled care, and memory support. Residents have access to premier dining, a community garden, an aquatic and fitness center, woodworking and art classes, theatre events, and so much more.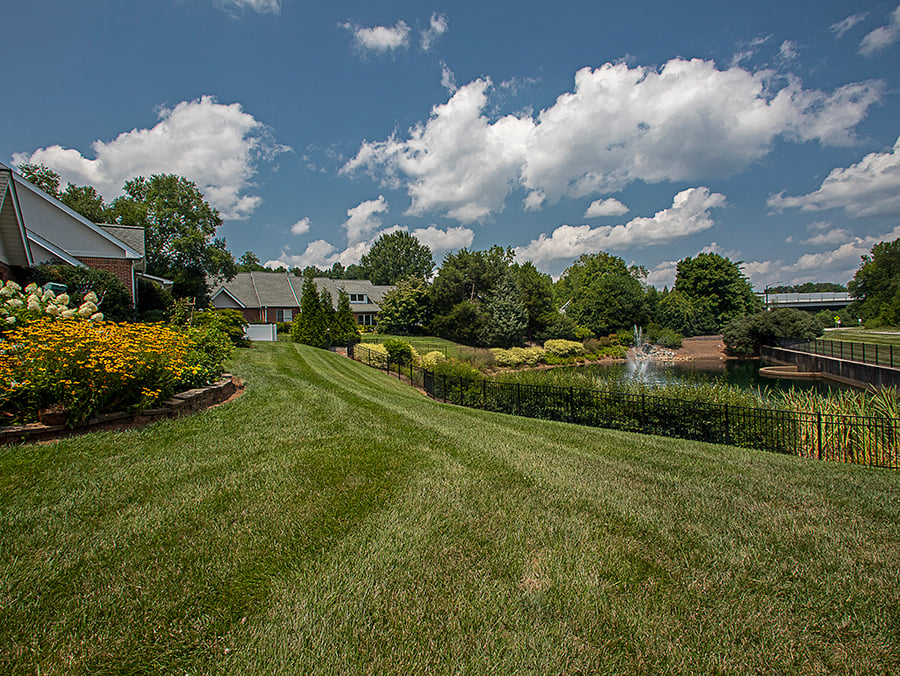 Of course, the community also has gorgeous grounds, giving residents and their family members opportunities to spend time outdoors. Yellowstone provides full-service landscaping care for Well-Spring and is honored to play a role in keeping this community in pristine condition.

Here's a bit more about how we meet their goals.
Prioritizing Safety
With senior living landscaping, safety truly is of the utmost importance. When seniors are spending time outdoors, their well-being must be protected. After all, residents and their loved ones choose a senior living community as a place where they can age safely and comfortably.

Whenever we are performing landscaping services, we are going out of our way to ensure that we are promptly blowing debris off of walkways and hardscape areas. We're also incredibly cognizant of what's going on around us, including whether there are any residents in the area around us. We understand that we play a role in keeping them safe while on the property (and because of the work that we do), and we take that responsibility seriously.


We also perform leaf removal five times during the leaf drop season, as Well-Spring knows that slick leaves (with even the smallest amount of water) can become a serious slip and fall hazard.

We're also incredibly conscious of communicating about any applications that we're performing with ahead of going out to perform them. We understand that with memory care patients, there are extra safety precautions that sometimes need to be taken and we want to help make that easy on staff by ensuring they always know when we're coming and what we're doing.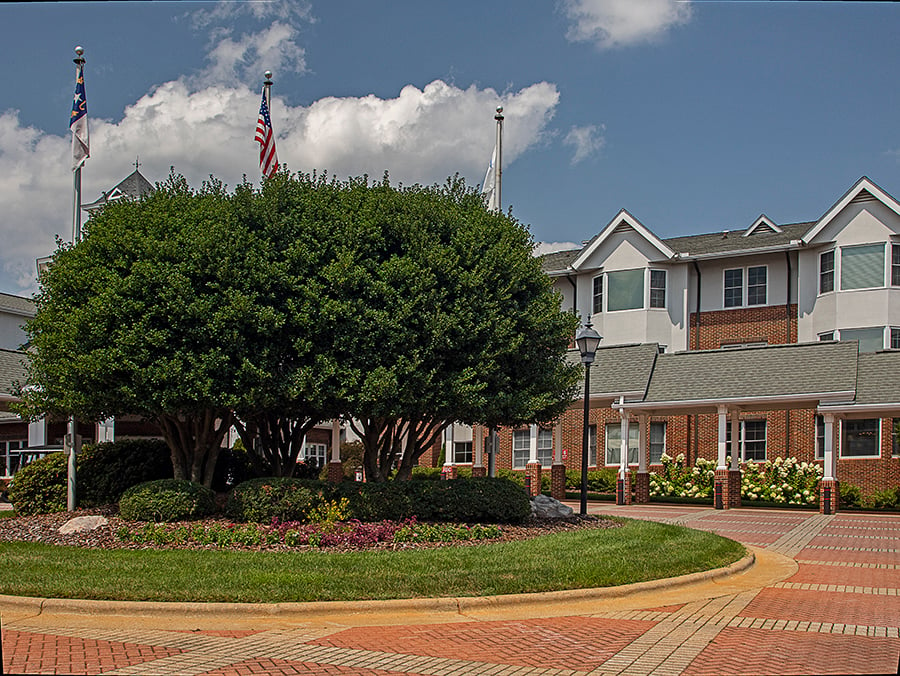 On top of all that, we've also complied with any special background checks that Well-Spring has asked us to perform on crew members, again, keeping the safety of their residents as our utmost priority.

Well-Spring has a full-time crew from Yellowstone Landscape on their grounds as we are handling all of their services: turf care, irrigation, lawn care, leaf removal, pruning, flower rotations, and any special needs that might arise during the year. We also perform quarterly soil testing to ensure that that turf continues to look its absolute best and any potential problems are addressed swiftly.
Customizing the Experience
Knowing that landscaping is such an important element when individuals and family members are choosing a senior living community for themselves or for their loved ones, we really take the work that we perform quite seriously. Spending time outdoors is so important as people age and senior living communities are more committed than ever to keep their grounds in the best possible shape.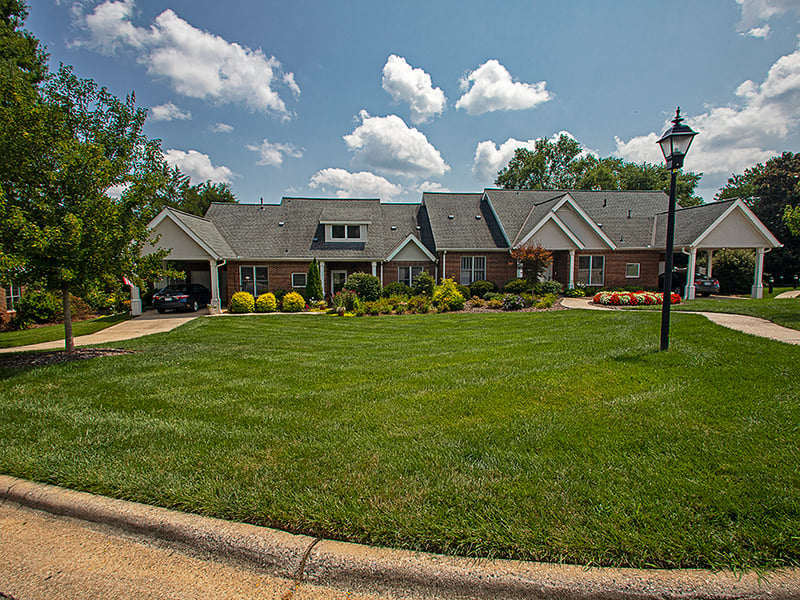 We're always thinking about the aesthetic appeal of the work that we perform and the way in which it can contribute to the overall experience and feeling that visitors come away with. We understand that people will equate the condition of the grounds to what the care will be like on the inside. The exterior of a property is always a reflection of the interior.

That's not something we take lightly. Yellowstone crews understand that the very work that they perform has a direct impact on whether potential residents (and their families) choose a community or not.

Of course, we also want to ensure the work we do enhances the experience of the existing residents. That's why we customize our services and schedule to Well-Spring's specific needs.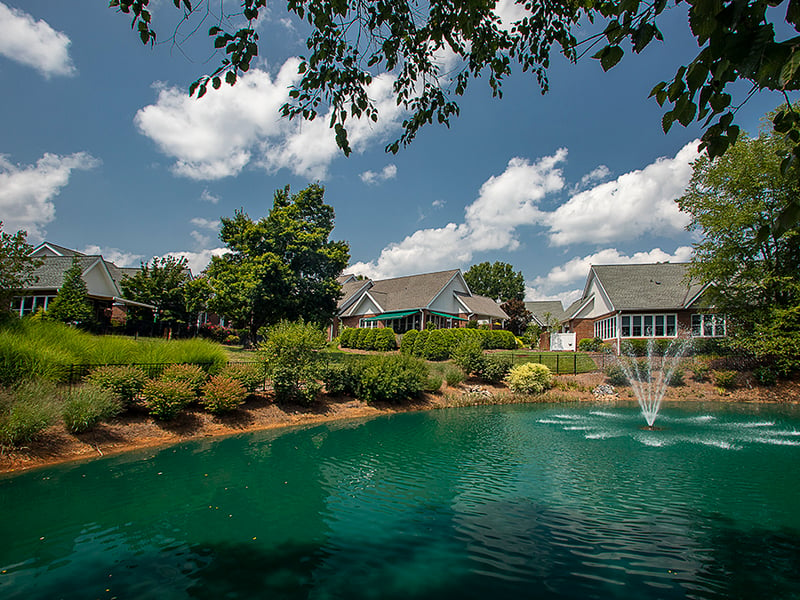 For instance, knowing that most family members tend to visit on the weekends, we make sure that our services are wrapped up by Thursday so that the property looks its very best when those visits take place. We know that residents and their family members will be walking the grounds and they want to feel both proud and safe as they do so.
A Proud Partner with Well-Spring and Other Senior Living Communities
At Yellowstone Landscape, we are incredibly proud to partner with senior living communities like Well-Spring. So many of these locations, like Well-Spring, have very high expectations. We are committed to meeting and exceeding those expectations so that you can be truly proud to show off your grounds.

Together, we can be a strong team and achieve the goals that you are looking to fulfill in your senior living community. We know that landscaping is such a key aspect of your residents' (and prospective residents') experience, and we want to help you make it the best it can be.

Are you a property manager for a senior living community looking for a commercial landscaping partner you can count on? Request a consultation today. We'll meet to learn more about your property and its challenges and come up with a comprehensive plan to take care of all of the details for you.