Every commercial property comes with its own unique set of challenges. Whenever we take on a commercial landscaping client, it is always our goal to become a partner - working together to solve problems and fulfill both wants and needs, while overcoming those challenges.

Of course, that can be particularly difficult in a large scale community setting, where there are many different voices that need to be heard. Ensuring that everyone is happy can feel like a tall order, but it's one that we are up to handling.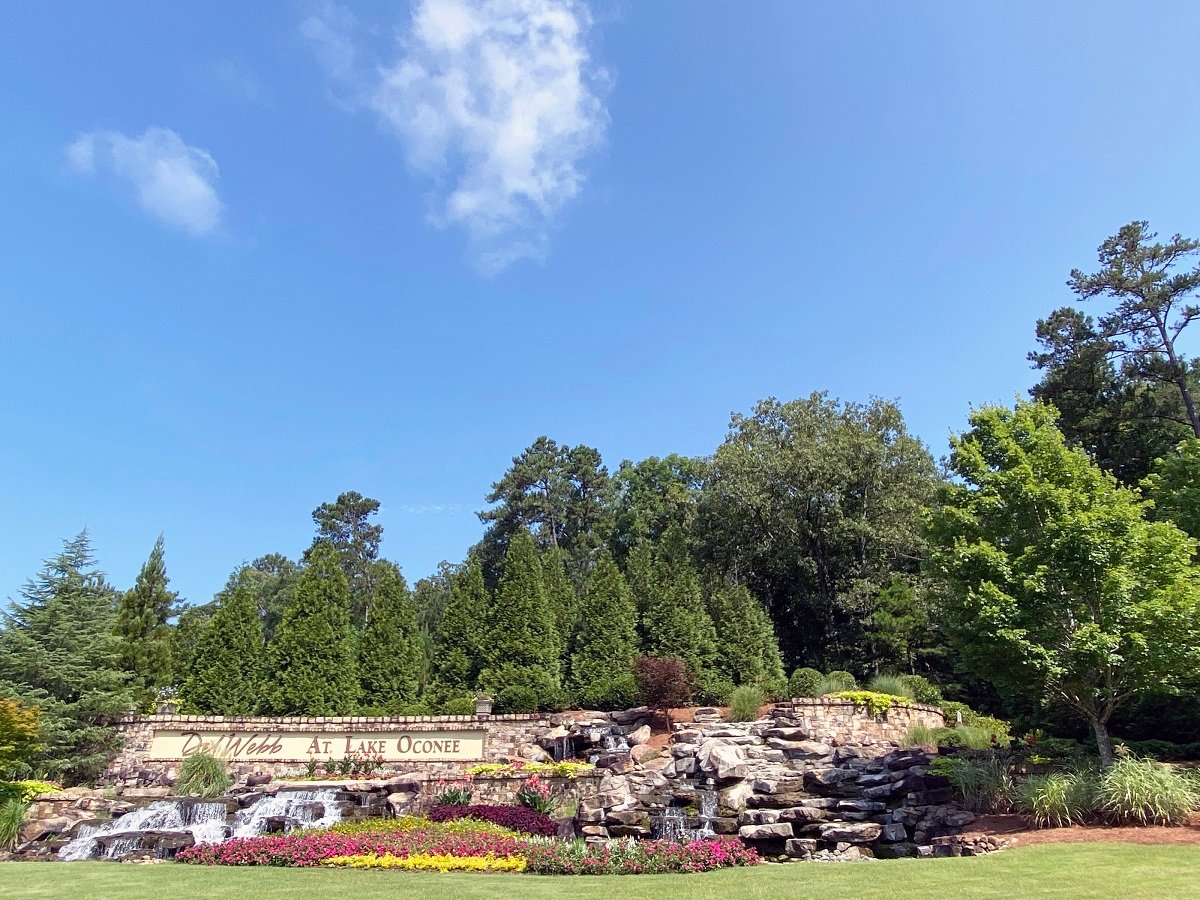 That was the case for Del Webb at Lake Oconee, an active adult community located on the banks of Lake Oconee, about an hour outside of Atlanta, Georgia. We came into this partnership with the goal of really getting to know and understand the needs of this community, so that it could become a place where residents are truly proud to live and can enjoy all the natural beauty around them.
Fulfilling High Expectations
Del Webb at Lake Oconee offers resort-quality activities and events for residents seeking an active lifestyle during their retirement years. The gated community has a plethora of activities including pickleball, swimming, tennis, and canoeing.

The emphasis is on being active, so many of the residents like to spend a lot of time outside.

The community also has a unique situation in that many of the residents are not native to the area. They are choosing Georgia and the gorgeous wooded lake area that this community offers as the place to spend their golden years.

Of course, having residents who are unfamiliar with the Georgian landscaping and climate is a challenge in and of itself. And given the sizable investment of the residents to relocate to the lake, are very high expectations for the appearance of the community that we have to meet.

This community's needs are also evolving. As the development has continued to expand, we've added additional services when new sections are completed, and we've also needed to continue to ensure we were communicating effectively. With new residents frequently coming in, that high level of communication has had to be continually maintained.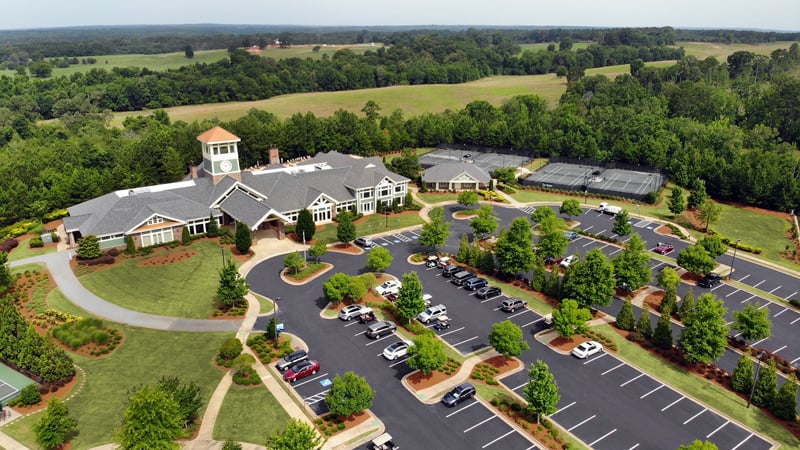 Giving new residents a chance to voice their opinion and weigh in on landscaping is something that we also respect.

The bottom line is that great communication often prevents many problems in the first place. It also helps to set realistic expectations.

Along with that, we are committed to being transparent, open, and honest as this also helps to set realistic expectations and help us start working toward meeting them. At Yellowstone Landscape, we pride ourselves on being excellent communicators at every step of the process.

We know that good communication and a solid partnership with our clients go hand-in-hand.
Challenges of the Land
Besides meeting challenges in regard to high expectations, the site itself also comes with some unique challenges.

The community is situated alongside the nearby Oconee National Forest and is in an area where there are large mountainsides where they've carved out space for the homes.

Because of that, there are severe slopes and erosion control to consider throughout the community.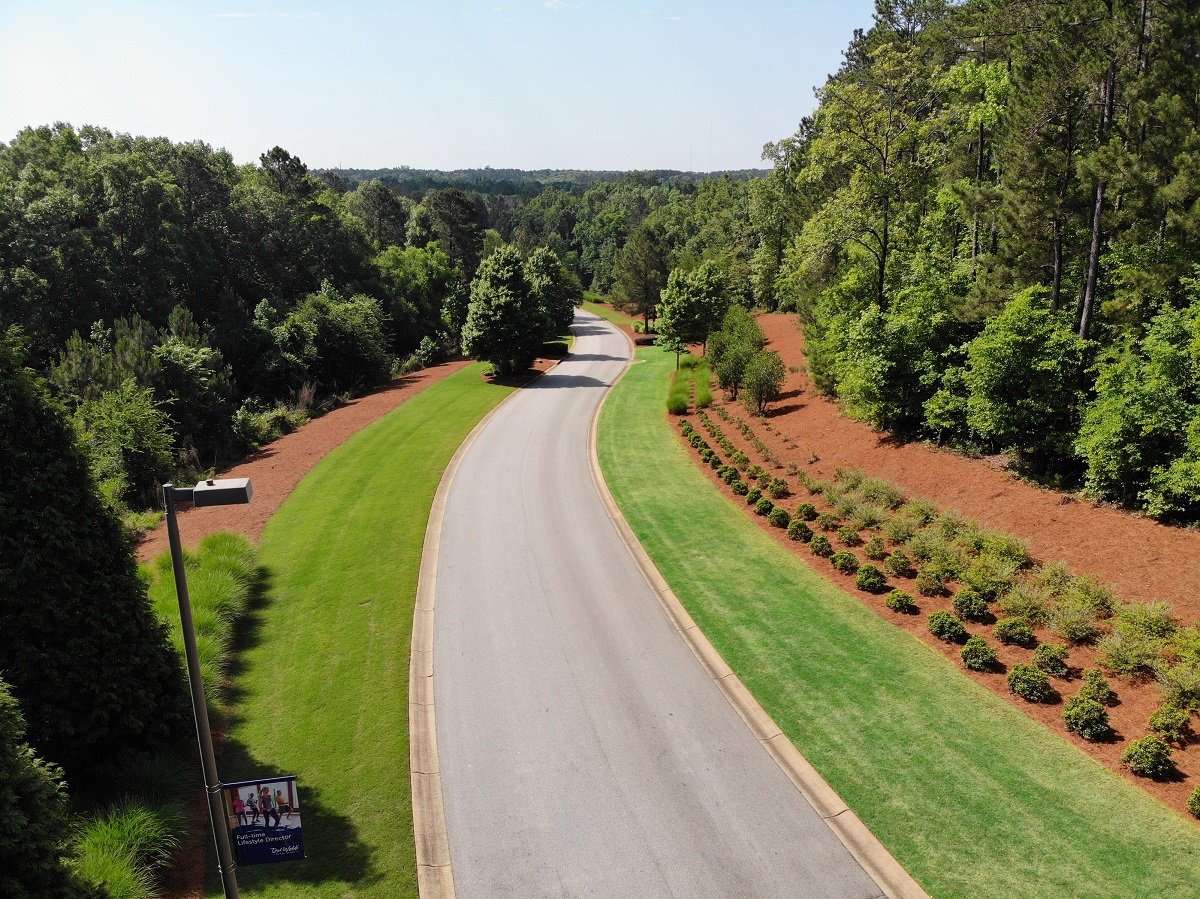 This means that many of the expansive planting beds are there not only for aesthetics but for erosion control purposes. It's important that we're maintaining both their functional and aesthetic roles.

Due to the slope, some of these plants require hand-pruning during drought periods. We can't get equipment on the hills and we might need to be walking up and handling our pruning services by hand. We are always taking specifics like these into account as we create and execute a plan.
A Close Partnership
At Yellowstone Landscape, we have always prided ourselves on the partnerships that we form with our clients. This particular community is a great example of one in which we've really gotten to know one another. Because our teams are working at Del Webb at Lake Oconee every day of the week, we've found that the community has really gotten to know our team members.

We're sending the same team out to the site each day.

That's allowed us to build close relationships and a mutual sense of respect for one another.

We are highly aware of all of the residents out and about in this highly active community where people spend a lot of time outside. We're very careful to respect their wishes and not get in their way while also maintaining the high level of landscaping that they have come to expect. We understand that an active clubhouse event calendar requires that our services must be worked around these activities.

We also know that keeping residents free from injury while exploring the community grounds requires daily policing of walkways and parking areas.

In many ways, it's a balancing act, but we're achieving success thanks to a close partnership with community management.

We know that this is the key to long term partnerships, and clients tell us that it's a rarity among commercial landscaping service providers.

Most commercial property owners, managers, HOA boards, or even community residents would not say that they've gotten to "know" their landscaping company. For one, that's difficult when so many large commercial landscaping companies have a revolving door of employees. But we have never aimed to be like other landscaping companies.

It's the relationships that we build that have helped to set us apart.
Listening, Implementing Solutions, and Building a Future
This particular property is one where we really love to celebrate our close relationships and the way in which our partnership has helped us to achieve success. We know that in the community association world, landscaping can become a point of contention. There are a lot of voices to listen to and a lot of residents to keep happy.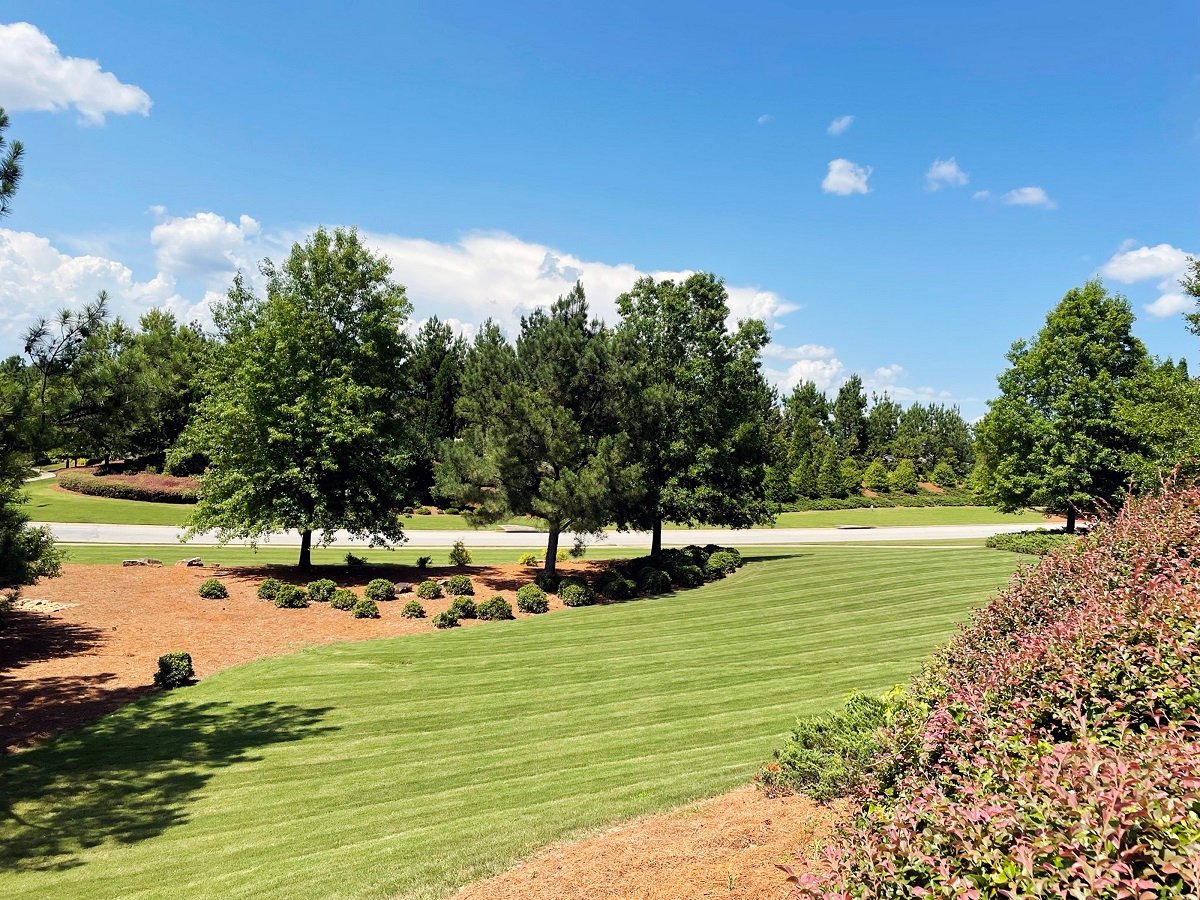 Communities that have had bad experiences with landscaping providers in the past might be worried that's how it will always go. But with something as important as your outdoor areas, you shouldn't have to put up with a subpar experience.

Whenever we start working with a client, one of the first things that we do is stop and listen. We listen to problems and we start talking about solutions. We understand that by prioritizing communication, we can start to turn things around.

It also helps that we have the capabilities of a large national company while still being locally focused. As Del Webb at Lake Oconee shows, our landscaping teams really care about the properties they work on and they love building relationships and even getting to know residents by name.

On the flip side, residents appreciate seeing the same friendly faces coming to care for the landscape each day.

Much of that is thanks to being able to fully embrace our clients' needs while also being able to tackle large-scale problems with the right resources.

We try our best to offer the best of both worlds and our clients appreciate that. Our goal is to keep everyone happy and we're there to make you and your property look your best, so it's a win for everyone!

Do you have a commercial landscaping project that you'd like to talk about? Request a consultation today. We'll meet to learn more about your property and its challenges and come up with a comprehensive plan to take care of all of the details for you.