Posted by

Joseph Barnes on Feb 2, 2021 9:21:29 AM
If you have a community association or commercial property in need of landscape maintenance, you may be weighing your options of local vs. national landscaping companies.

We find that well informed commercial property managers and community association leaders want to know, why should I hire a national company when there are plenty of local landscaping companies to choose from?

The truth is, there are some real differences that can lead to real benefits for you and your property. While it's true that Yellowstone Landscape is a large, national company, we are structured in such a way that we rely heavily on the best judgement of our branches, each very in-tune with their local market (the same way that a "local" company would be). The people who work in these branches live in the same communities as their clients and they care about their local market. In addition to their local focus, we also have the benefit of a big-picture perspective, sharing what's happening in other markets with all our local teams.

Yellowstone Landscape is a company that began when strong, existing regional landscape companies came together with a goal to be the "best of the best." This has given us access to different and oftentimes better processes and systems. We've been able to incorporate those best practices into the broader company to benefit all of our branches.

But enough about us. The point of this article is to help you have a better understanding of what you can expect from any size landscape company you may be considering. So, here's our thoughts on how local vs. national landscaping companies match up in a number of different categories.
The Quality of the Work
First and foremost, we want to say that we know strong, local landscape competitors in every area that we serve. And we know that there is certainly some top-notch competition out there when it comes to quality. So, we want to be clear that we sincerely respect their ability to do really great work.

That being said, there are some reasons why a national company might be able to go above-and-beyond in terms of the quality of the work they produce.

One obvious reason is the access to better equipment (which we'll discuss as a separate point, next). Better equipment can naturally equate to better work. While all landscape companies may have the opportunity to access the same equipment and therefore could produce similar results, a national company is much more likely to actually invest in top of the line equipment and can afford to replace their equipment more often.

Quality of work is often attributed to the quality of the team members that make up the company. It's certainly true that a local landscaping company might be good at attracting and hiring great people that produce great results. But a larger company will always have more resources to invest in training those same quality people after they're hired. The people that make up a company ultimately make the company. Again, we'll delve more into this point later, but the quality of the Landscape Professionals that service your property will absolutely impact the quality of the work.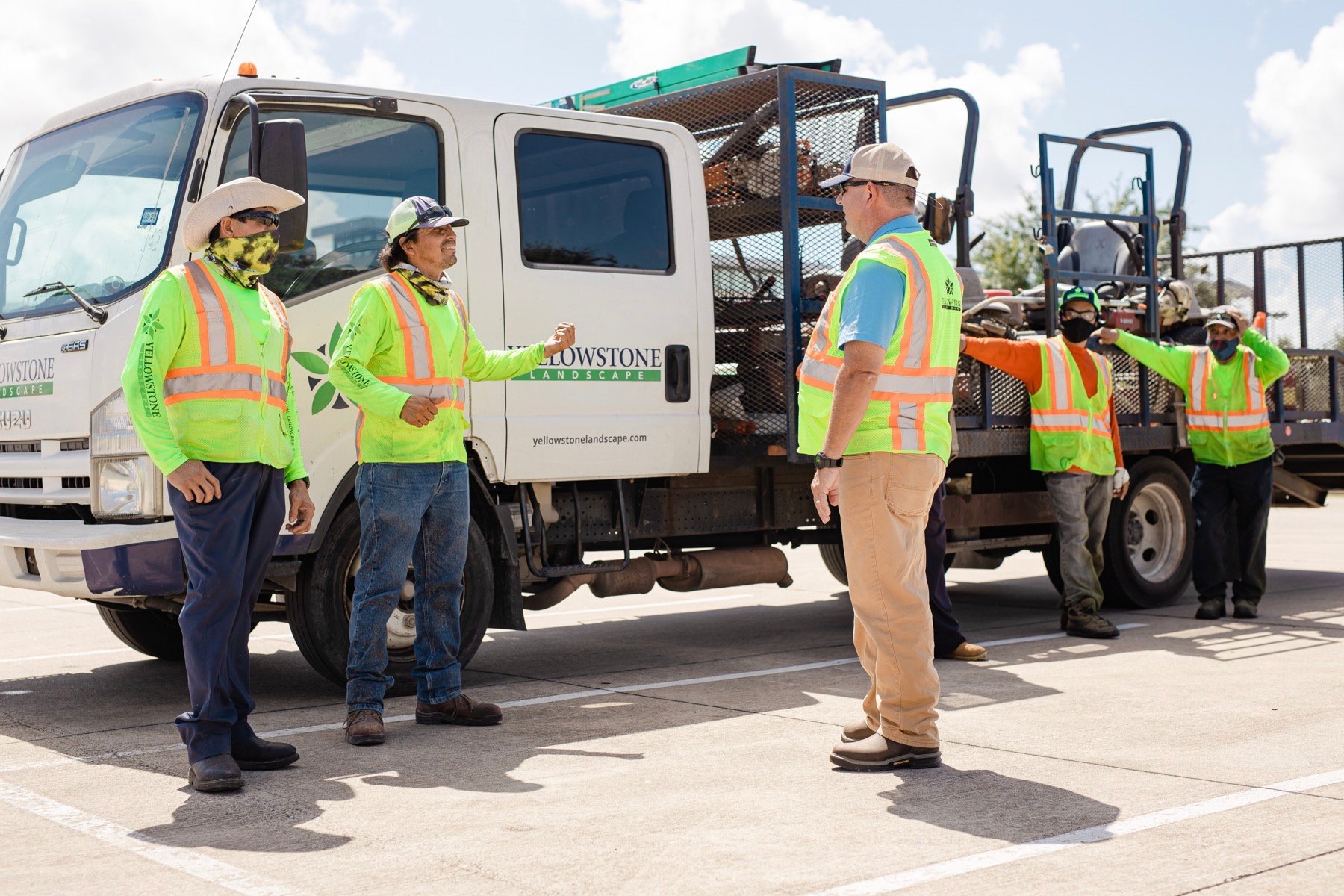 The Equipment Used
As we compare local vs. national landscaping companies, access to equipment can be a big differentiator. This should matter to you because as we mentioned above, the equipment utilized for the job is going to impact the quality of the work.

Most local landscaping companies are simply not going to be able to afford to replace their equipment as often as larger firms. They're more likely to run equipment longer than its intended lifespan, and that can begin to affect the quality of their work. But in a large national company, regular replacement is part of the anticipated costs of doing business.

For instance, at Yellowstone Landscape, we have every single piece of our equipment on a defined depreciation schedule. We know exactly when we're going to replace each piece. We're not going to wait until something is in poor shape and let it impact the quality of our work before deciding to replace it.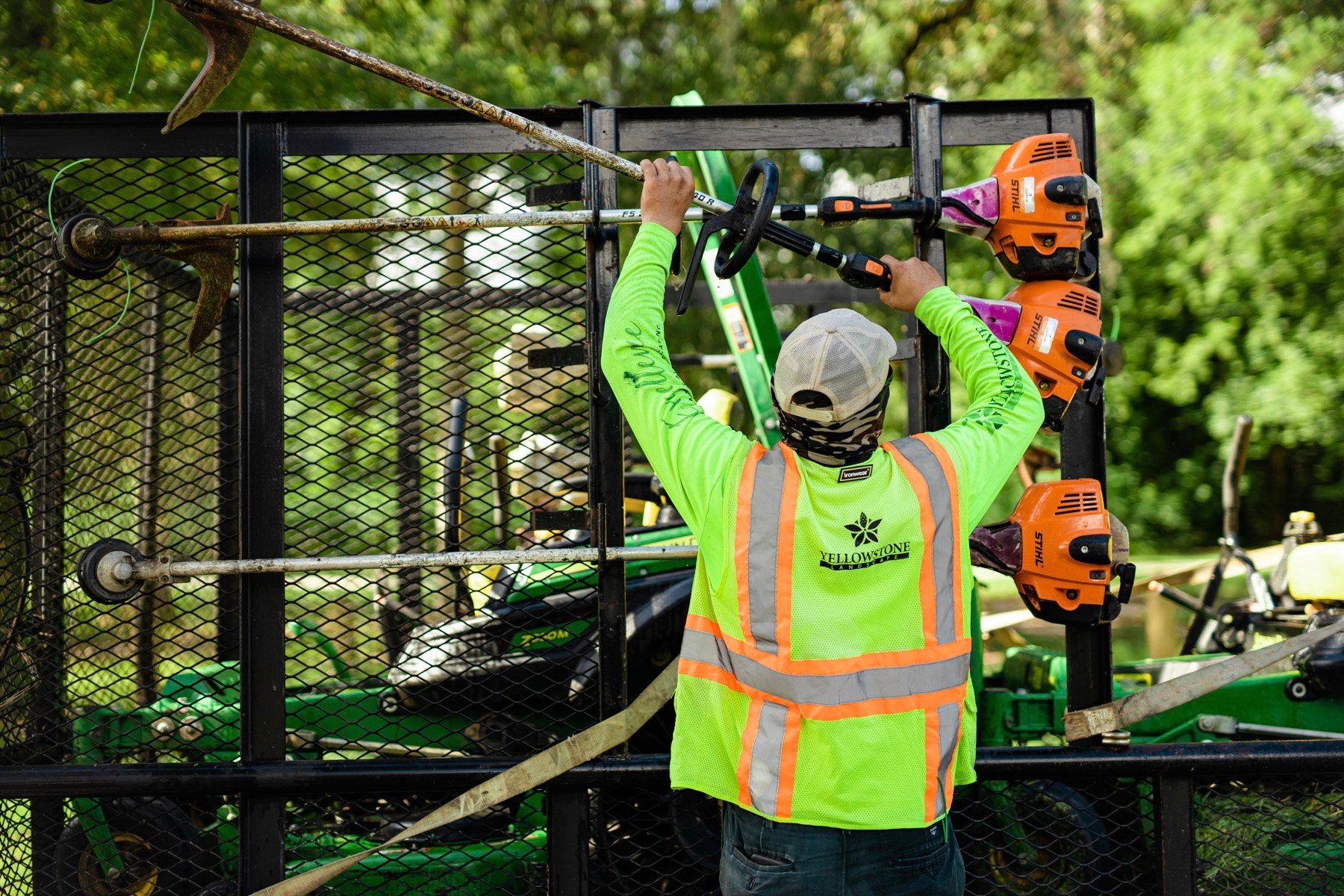 Of course, in a larger firm, we also have the resources to do all that we can to extend the life of the equipment we rely upon to do our work. This is another important and often overlooked difference between local vs. national landscaping companies - how we handle repairs to our fleet and equipment. At Yellowstone Landscape, we have mechanics on staff in all our branches, which means that we rarely have to send our equipment out for repair. And we're also able to have all our equipment regularly serviced to keep it in tip-top shape.

Our access to in-house mechanics ensures that when our crews show up to a job site, all their equipment will be ready to operate efficiently and safely, without any down time that would impact our clients. It also means that our equipment is working its best. As a result, our crews are well-equipped at all times. We don't often have mowers breaking down on the job or have to delay services because needed equipment is in the shop. Operations continue on time and on the same predictable schedule, week to week.

Another area where national landscaping companies are likely to differ from a local company is in their ability to invest in new equipment and technology, such as robotic mowers. A smaller company isn't as likely to have the means to explore these options until they've become the industry standard.

But national landscaping companies are more likely to invest in, and participate in testing this cutting-edge equipment, long before other companies have access to these advanced pieces of technology.

Manufacturers are more eager to provide larger companies with the option to "test out" a piece of equipment that's new to the market, to see if it's something that will help them do the job better. Because of this, national landscaping companies are more likely to stay on top of the latest equipment technology and continually evaluate whether it makes sense to invest in (on a large scale) for their clients. As they experiment and test out new equipment, they'll constantly be thinking about whether this is something that can help them get better results and greater efficiencies in serving their clients.
Investing in Technology Systems
Another key area of difference between local vs. national landscaping companies will be how they're investing in technology systems to run their business.

As we talked about early on, a large national company is paying attention to implementing proven processes and systems and continually looking at ways to improve, in order to benefit their clients. It's all about delivering a superior customer experience.

Along with that, while you might not think that the business management technology a landscape company is investing in (such as production scheduling software) impacts you, the fact is, a well-run, efficient company is going to be more efficient and better at doing business.

When they're using a robust scheduling system, they can ensure that any changes to their team's schedule don't end up affecting you. A team member calling out sick shouldn't be your problem. It should not throw off the entire schedule for the week. Unfortunately, without strong processes and systems, something as simple as one employee calling out, could ruin the whole week's schedule.

The technology systems used by your landscape partner can also impact billing and influence operations in ways that help make the customer's entire process of dealing with that company as smooth as possible. While it's easy to think that in-house technology doesn't impact you, if you find the experience of working with your landscaping company frustrating, you may realize that these systems are at the root of these frustrations.
Pricing and Billing
When it comes to local vs. national landscaping companies and how each will price the work they do, a national company is generally more precise in determining exactly what it will take to get the work done. Often prospective clients will automatically assume that a larger company will mean a higher price point, but that's definitely not always the case. Sometimes our access to better equipment and better trained staff means we are able to get the work done more efficiently than the smaller, local company.

We believe that by using a more sophisticated pricing model, and doing our due diligence to make sure that we have a firm grasp on exactly what it will take to get the work completed, that will lead to the most accurate assessment of the investment required to get the job done. But the most accurate pricing doesn't always mean the lowest (or the highest) of all competitive bids you will receive. That's exactly why we don't focus on being high or low, rather making certain that our pricing is an accurate reflection of what it will take to get the job done at the level you expect.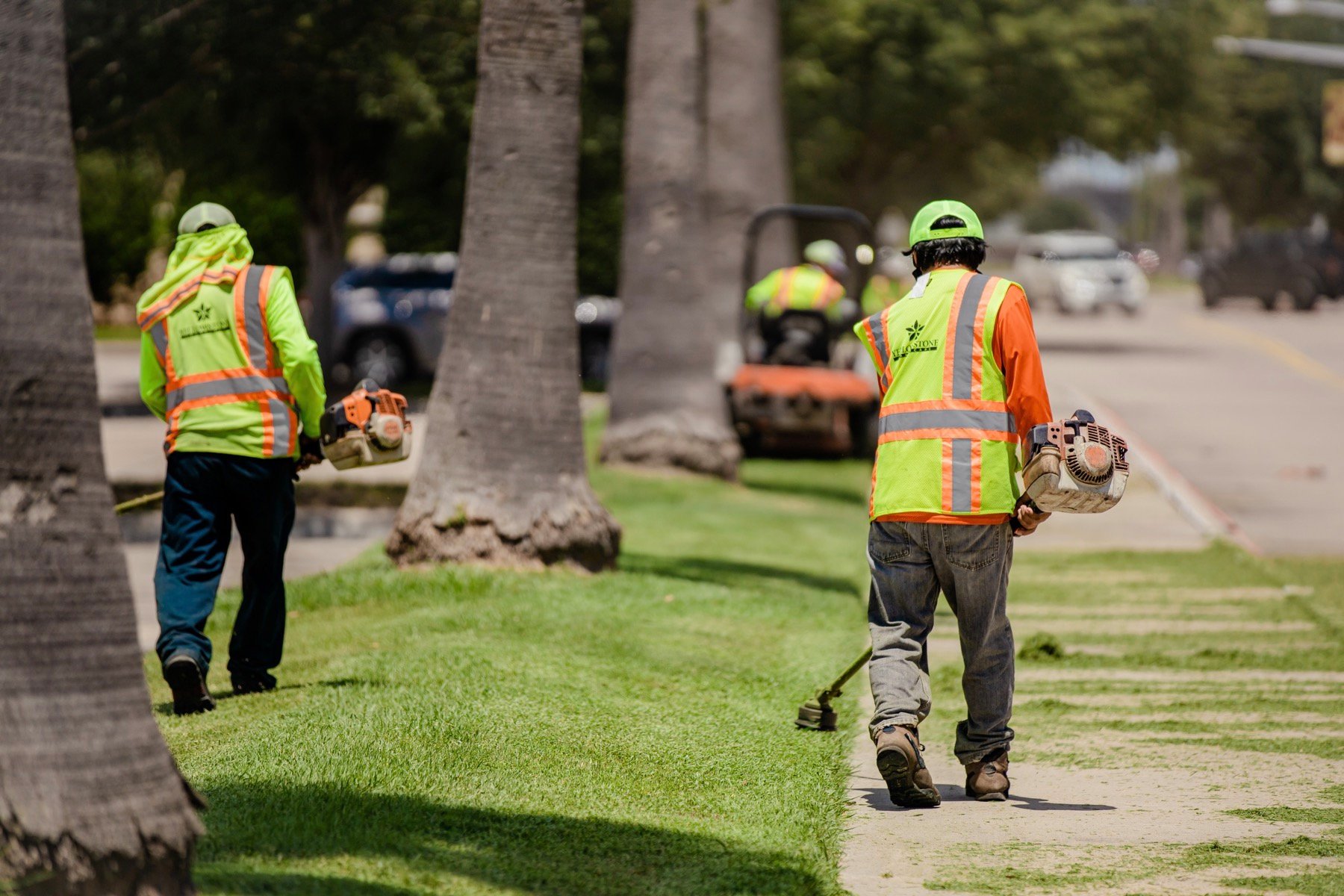 Of course, you ultimately want to see all bids (whether from local or national landscaping companies) within 10 percent of each other, or it should raise a red flag that something is off. We've talked about the types of bids that you can expect to receive when sending an RFP out. When pricing estimates are super high or super low, you need to look further into why that happened.

When it comes to billing, a larger, national company is generally going to be more detailed and more accurate as a result of investing in more resources. We've already talked about how the investment in business management technology systems can come into play here. But a larger company will also handle their Accounts Receivable in-house, rather than handing it over to a bookkeeper.

Sometimes, a smaller, local company even has the owner or the owners family handling the day-to-day business activities, such as bookkeeping. But when an owner has to wear multiple hats like this, it can mean things don't always get billed out correctly or as promptly as they should.
Safety, Training, and Insurance
In recent years, we've certainly seen smaller companies in our industry invest more heavily in safety and training than ever before, and we commend them for that. We love it when we see other landscaping companies operating in a safe and smart way. After all, our entire industry gets a bad rap when any landscaping company decides that safety just isn't important to them, and they operate in ways that put their employees in unnecessary danger.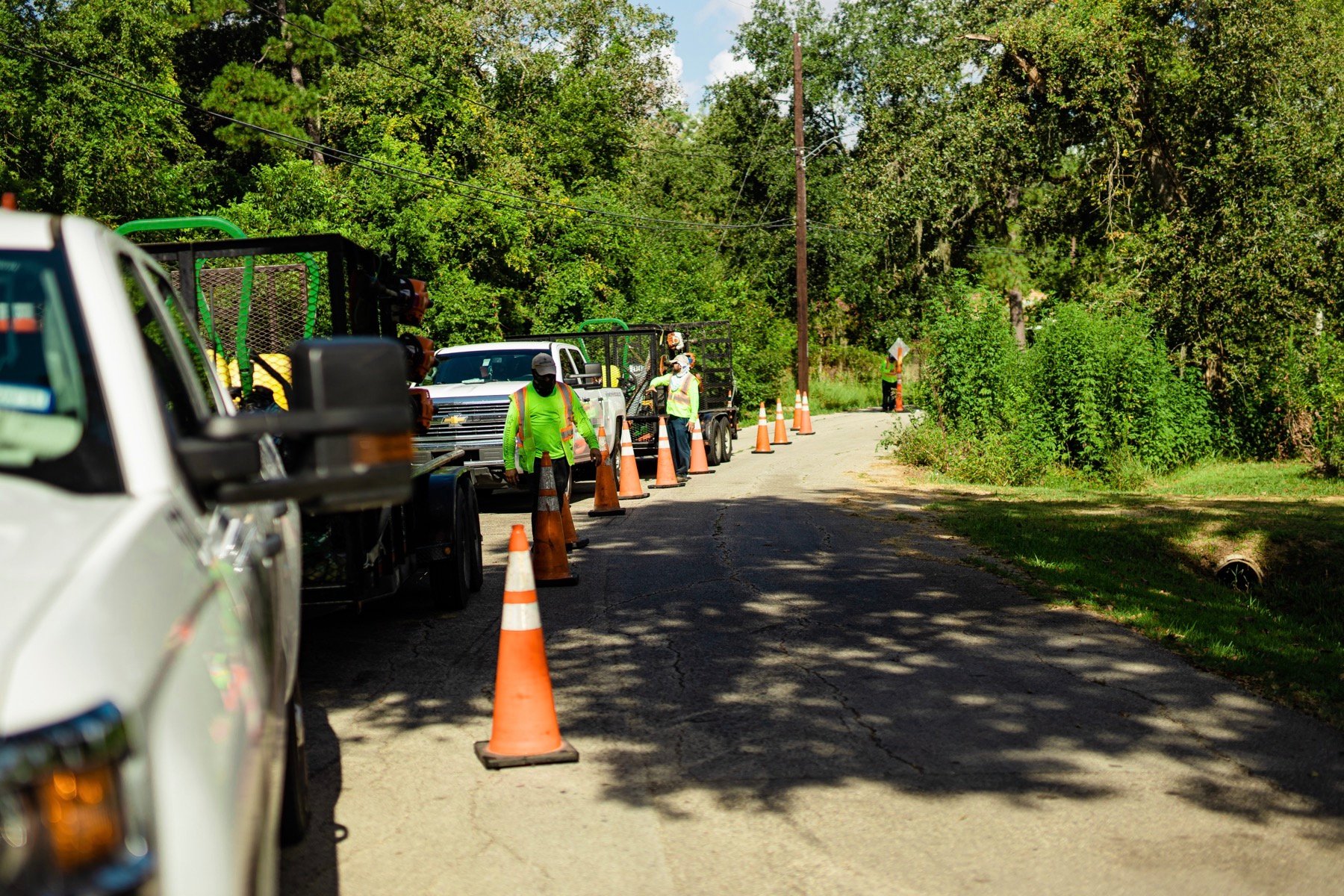 While we've certainly seen plenty of local companies doing the right thing, the truth is, national landscaping companies have greater resources and are able to invest far more heavily in safety and training, resulting in more favorable insurance rates. A large national company is going to have higher levels of insurability, more training, and be more committed to safety since there's more at risk for them. They also have access to proven systems applied over and over again with thousands of team members (instead of shooting from the hip and figuring it out as you go, which sometimes happens with a local company).

There's no guessing. They already know what works and what doesn't. As a result, safety and training simply won't be an area where larger companies are willing to accept any level of compromise.
Team Members and Company Culture
We've already touched on this a bit in this article, and in a previous article, we talked in-depth about our hiring process. The fact is, the people that make up a company are naturally going to impact not only the quality of the work but also the client's overall experience of working with that company. Because of that, you should choose a landscaping company that takes the hiring process seriously. Not one who just picks up anyone willing to do the work.

At Yellowstone, we prefer to hire Landscape Professionals who already have a lot of industry experience. Of course, there are also times that we find people who would make great employees because they have a strong work ethic or are hard-working, and then we provide them with the industry specific training they need.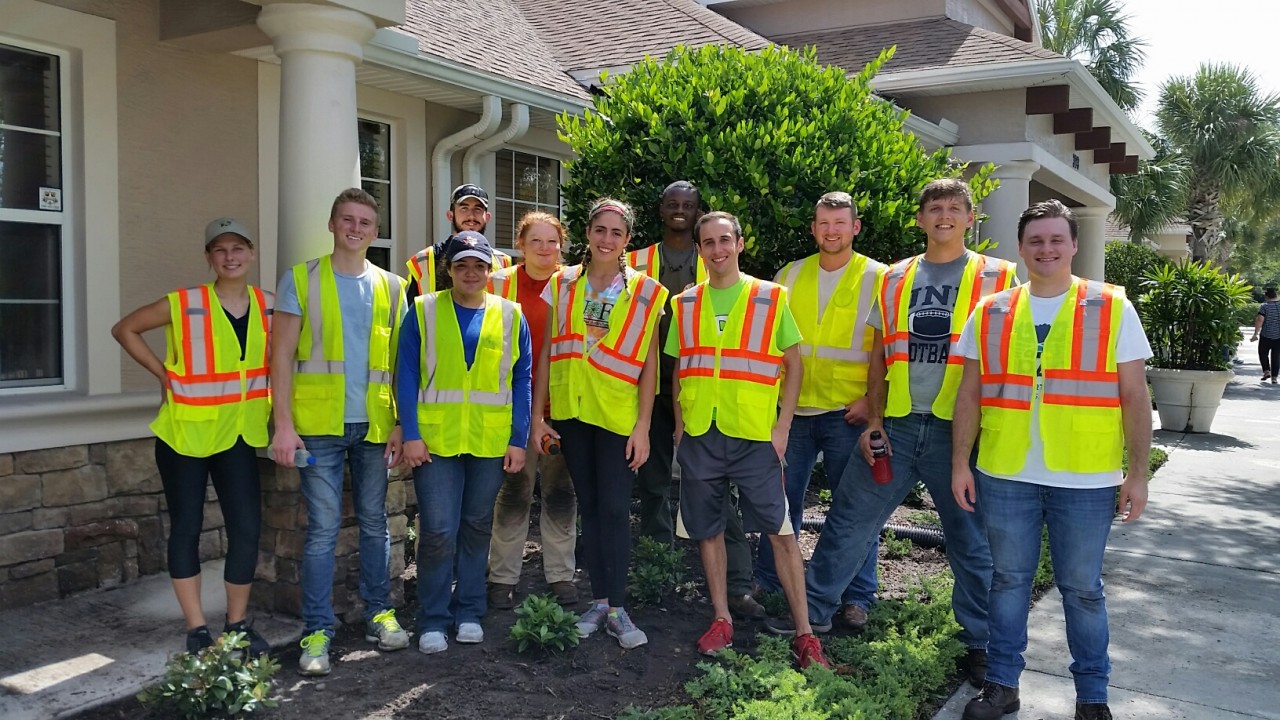 As a part of our company's culture, we're committed to providing a workplace where team members want to grow and build a career. That matters to clients because it impacts the type of people that we hire. We don't want to have a revolving door of employees. Rather, we're looking for people who want to stick around and make a career for themselves here. That is, making Yellowstone Landscape a place where people want to work.

Actually, a lot of Yellowstone Landscape team members come to us, after having worked for other reputable local landscaping companies in their area. They came to Yellowstone because they knew they would have better career opportunities and a better chance to help their clients, using all the resources we make available to them.

All of this comes back to the customer's view of the quality of the work we produce and the experience they have working with our people.
Making Your Choice: Local vs. National Landscaping Companies
Now comes the hard part. You have to make the choice that will be best for your property. Our hope is that this article gave you some insight about how a local vs. a national company can differ. As we said from the start, we absolutely recognize that we have some great local competition in all of the markets we serve.

As a property manager or a community association leader, you clearly have a big decision to make, with lots of factors to consider. At Yellowstone Landscape, we want to be a resource to you. If we can answer additional questions or help guide you in the decision process in any way, we invite you to reach out. Even if you don't end up choosing Yellowstone Landscape, we want to help you better understand our industry and ultimately be happy with the choice that you make. In the end, that makes our industry as a whole better.

Are you ready to hire the best landscape company for your community or commercial property? Request a quote and let us answer any additional questions that you may have.