The golf industry has been booming since the pandemic led to shutdowns in 2020. People who have never played before are getting into the sport—and those who have always been avid golfers are appreciating it (and playing) more than ever.

While the golf courses may be busier than ever, insiders know that finding good employees to help maintain these courses has become increasingly challenging. The labor crisis in the golf industry has become a major pain point for golf superintendents who now are finding themselves with more work on their plate and less help every day.

That's why partnering with a commercial landscaping professional to help meet some of your course maintenance needs may make a lot of sense.
Yellowstone Landscape recently partnered with The Woodlands Country Club, a private golf club in Houston, Texas, to help alleviate some of their labor burden. This is a great example of how a commercial landscaping partner can help you to keep your club and course thriving.

To help give you a sense of how we stepped in to assist, we wanted to share the details of this valued partnership.
The PGA Tour was Coming: Fulfilling an Important Need on a Tight Deadline
When we began talking with The Woodlands Country Club, they had a PGA Tour Champions event already lined up at their club. It was going to be the first time golf fans in Houston, Texas were allowed back to spectate an event in almost a year—and that was rightfully a big deal to a lot of people.

But with this momentous event approaching, there was also a need for some beautification work in a very short turnaround. Unfortunately, the in-house staff was already maxed out, taking care of course and other work that needed to be done to prepare for a professional tournament.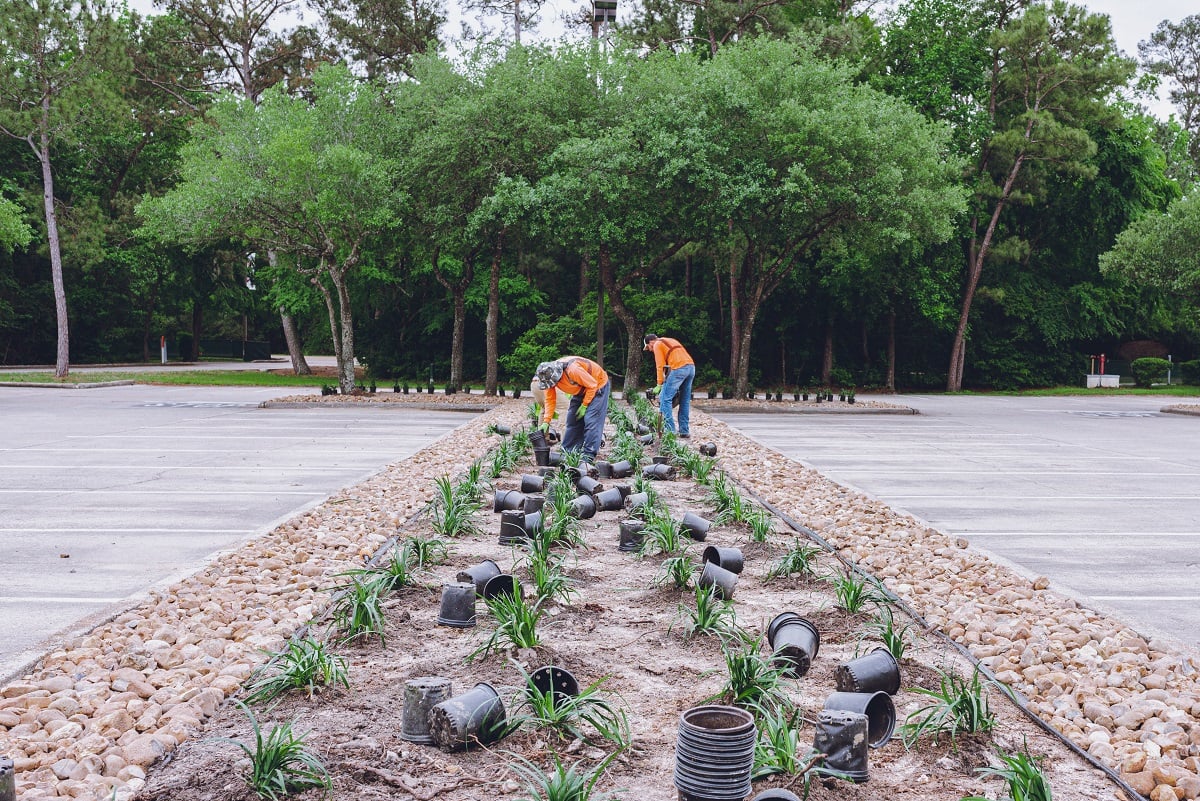 So, The Woodlands Country Club partnered with Yellowstone Landscape for some enhancement work that would add major appeal to some of the highest traffic areas on the property.
This included adding new plant material, stone, and mulch in the member parking lot area and around the clubhouse. We also added some new turf in areas that needed revitalization. Our focus was on the areas that would get a lot of visibility from members and guests during this important event. The goal was to create an amazing "first impression" as many spectators stepped back onto the golf course to watch their favorite senior players for the first time in months.

Of course, the deadline was immovable. This work needed to get done, and it needed to get done quickly. And with so many eyes on the property, there was no room for error.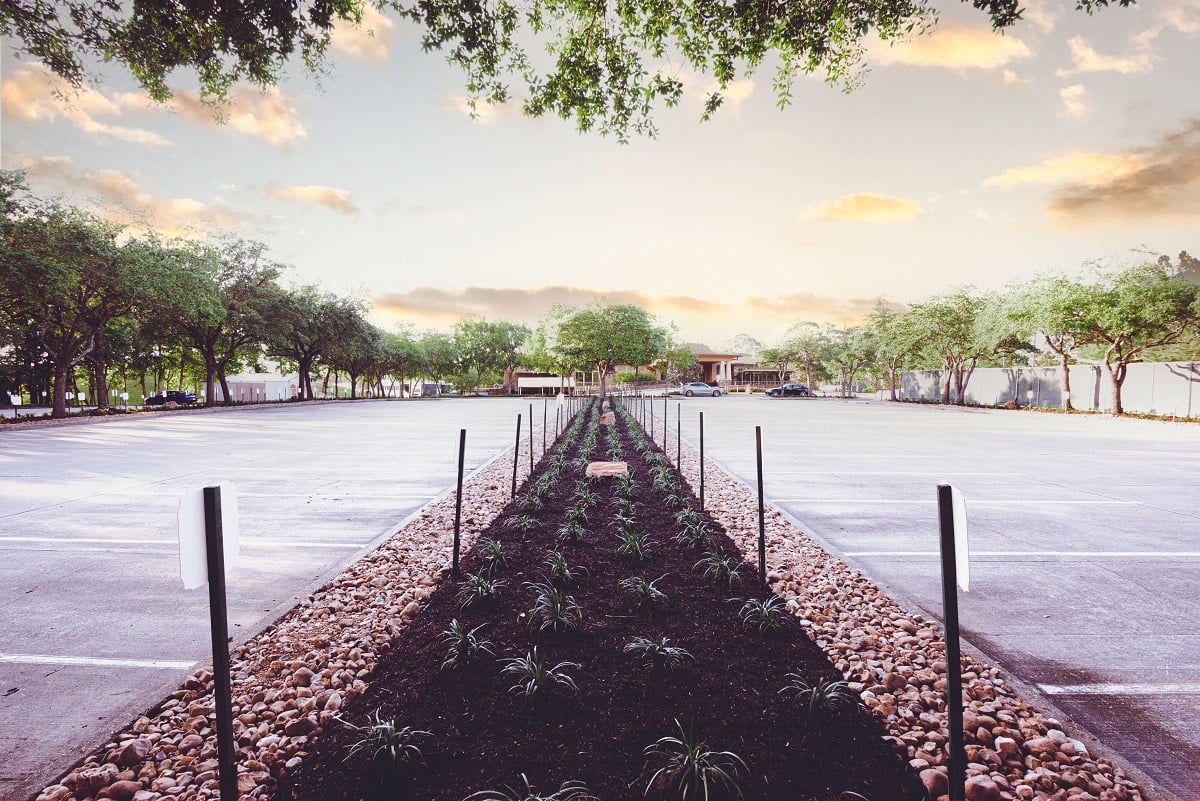 With this PGA event on the horizon (only a few weeks away from the time we were contracted), we were able to complete everything that the client was looking for despite the tight turnaround.

As a result, the club looked its best when it was time to host their leg of the tour.
Becoming a Commercial Landscape Maintenance Partner
After we completed this enhancement work, it became apparent to The Woodlands that we could be a vital partner to help supplement their ongoing need for more maintenance help. As the interest in golf has continued to grow, "thinking outside of the box" has been necessary to fulfill the ongoing necessary labor.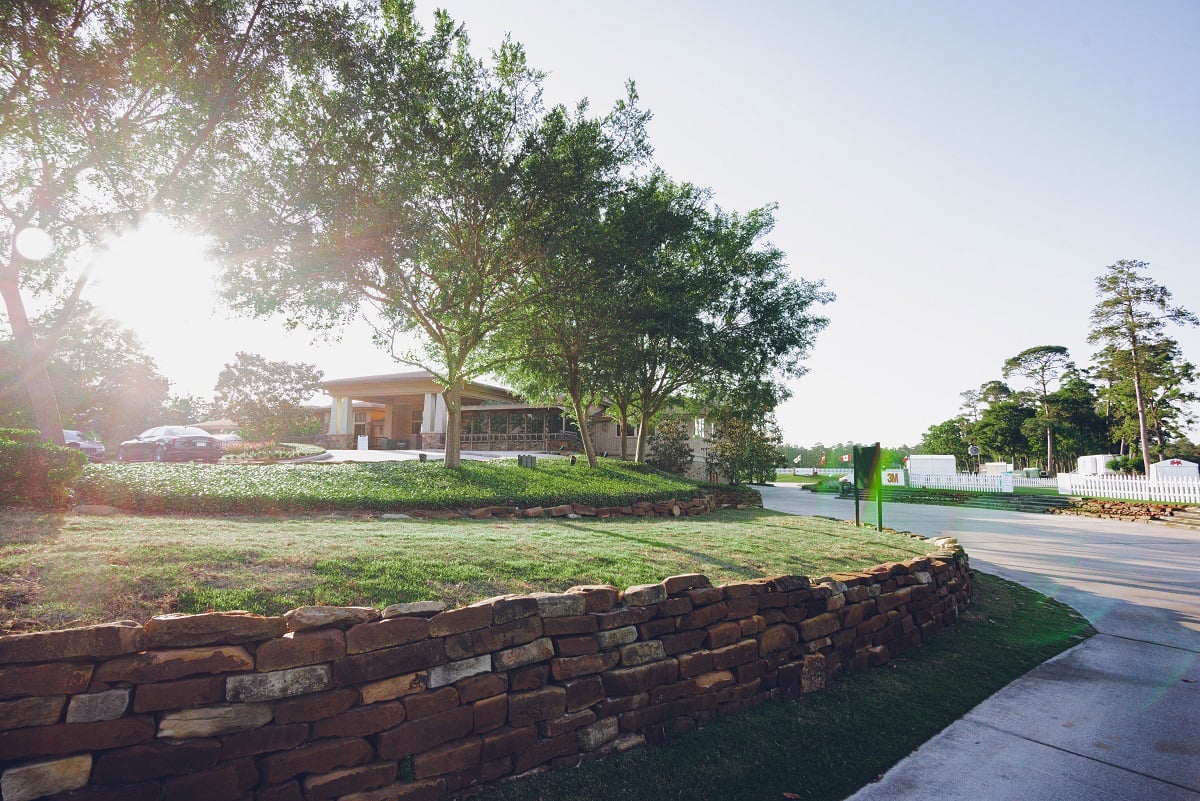 With that in mind, Yellowstone Landscape was brought on as a commercial landscape maintenance partner going forward. In this role, we help take care of tasks such as edging around the cart paths and bunkers, edging around the lakes and hazard areas, and caring for some of the landscape beds that we installed around the clubhouse and parking lot.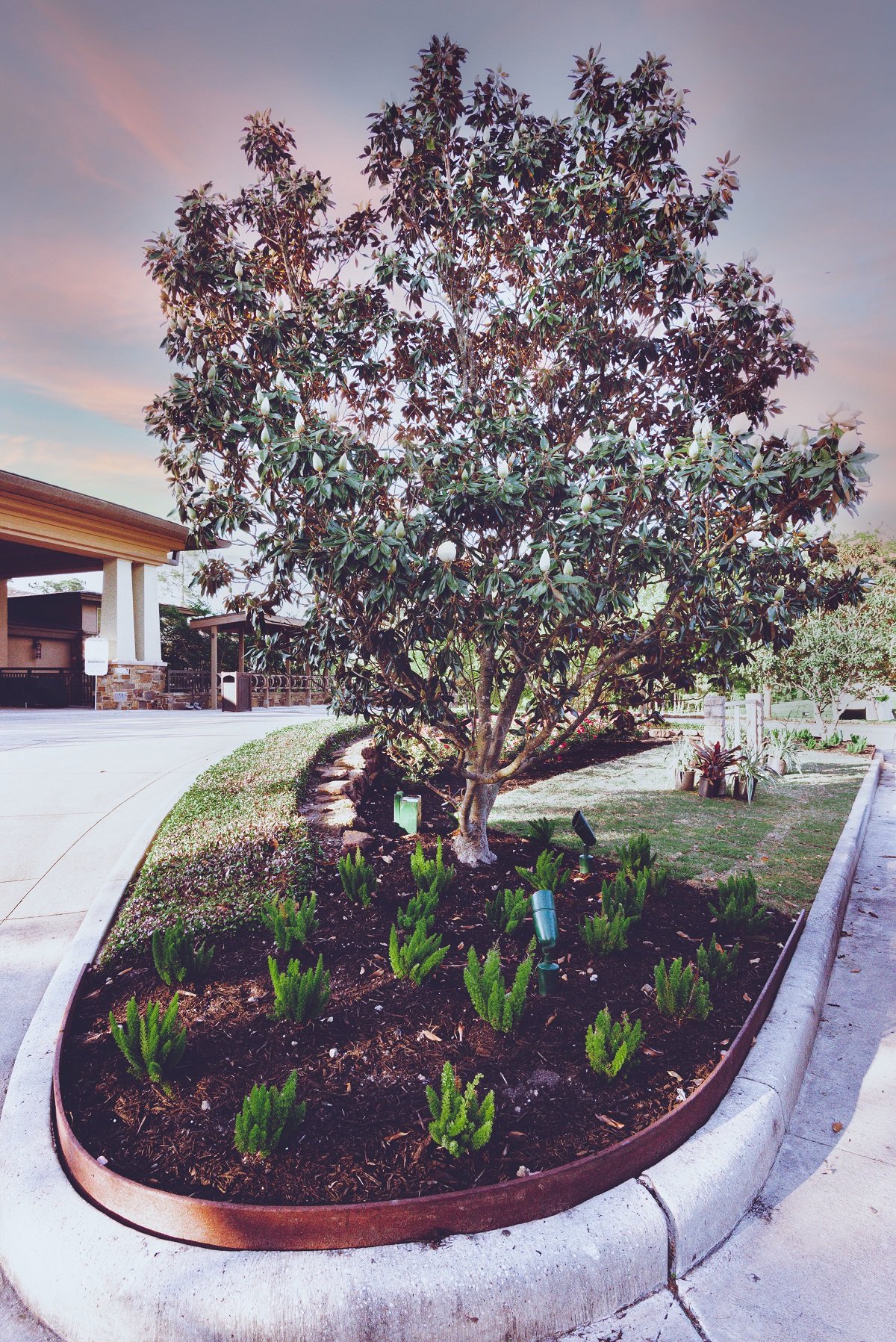 By taking on these landscape maintenance tasks, we are able to free up the in-house groundskeeping crew's time to solely focus on maintaining the course. This helps to ensure that both the courses, and areas around them, look absolutely pristine.

With limited labor availability, this just couldn't be possible without the extra help.
Proud to Partner with Golf Courses Nationwide
At Yellowstone Landscape, we are no strangers to the pains associated with the labor crisis. Our industry has felt it, too. However, we've been fortunate that as a large, national company with a strong reputation, we've been able to maintain a highly qualified workforce.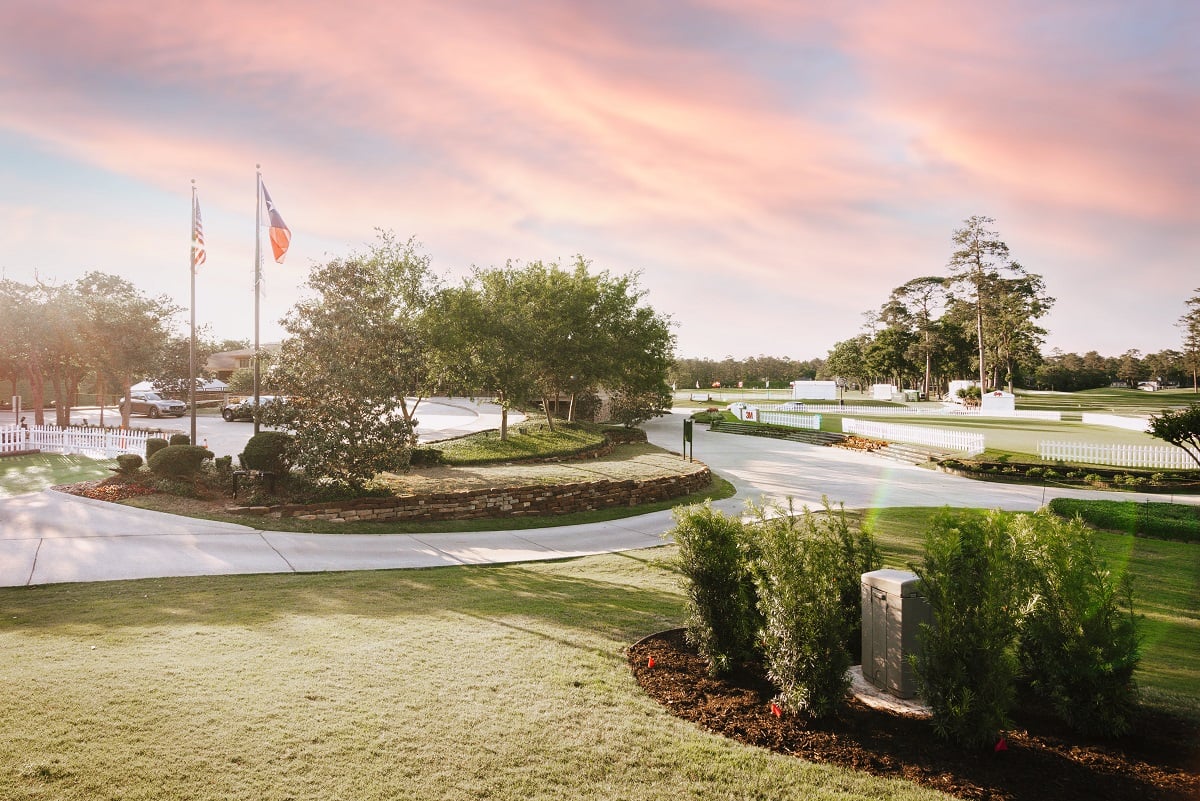 As a result of that, we've found that we're able to be incredibly helpful in partnering with golf courses and clubs around the country that are short on staff and need some extra help keeping their clubs in the best shape possible. With the golf industry continuing to boom, the patrons' expectations are high and we understand they're getting increasingly more difficult to meet without the help.

But together, we can be a strong team. We know that you're looking for top-quality work that will make your members proud and we're used to working at that high caliber level for our other landscape clients already. And when you free up your in-house team's time, you can help ensure your course is looking and playing better than ever to continue to fulfill the high demand.

If you're a golf course superintendent who feels more than a little overwhelmed by staffing challenges right now, we can help. Whether it's that your members are already complaining or you're just worried that they will be soon without some changes, partnering with a landscape professional who understands your need for high-quality services in a timely manner is key.

The bottom line? With the right landscaping professional on your side, you can finally stop feeling so overwhelmed and gain confidence that you're in good hands.

Are you a golf course superintendent who could use a few extra pairs of experienced hands? We can help! Request a consultation today. We'll meet to learn more about your property and its challenges and come up with a comprehensive plan to take care of all of the details for you.