At Yellowstone Landscape, we're proud to have a number of long-time clients who have trusted us to handle their evolving landscape needs. Projects like these demonstrate our commitment to being a true "partner" to the clients that we work with—being fluent and adaptable as their needs change.

Technology Park Atlanta is a perfect example of this kind of client partnership.

We've been involved with this master-planned, mixed-use office space park since 2011 and during that decade have been a partner in their larger goals.

As they've evolved, we've adapted our landscaping plans to meet their changing needs, knowing that the work that we do as an Atlanta Commercial Landscaping company ultimately reflects directly upon them. Because it's always our goal to make sure that the clients that we work for look their best.
Reinvigorating and Modernizing the Park
Located on a sprawling 1,900 acres, Technology Park Atlanta has thousands of employees that work there and who value the outdoor green space available to them. With office space for more than 100 companies, this is an innovative office park space located in Peachtree Corners, an affluent suburb of Atlanta, Georgia.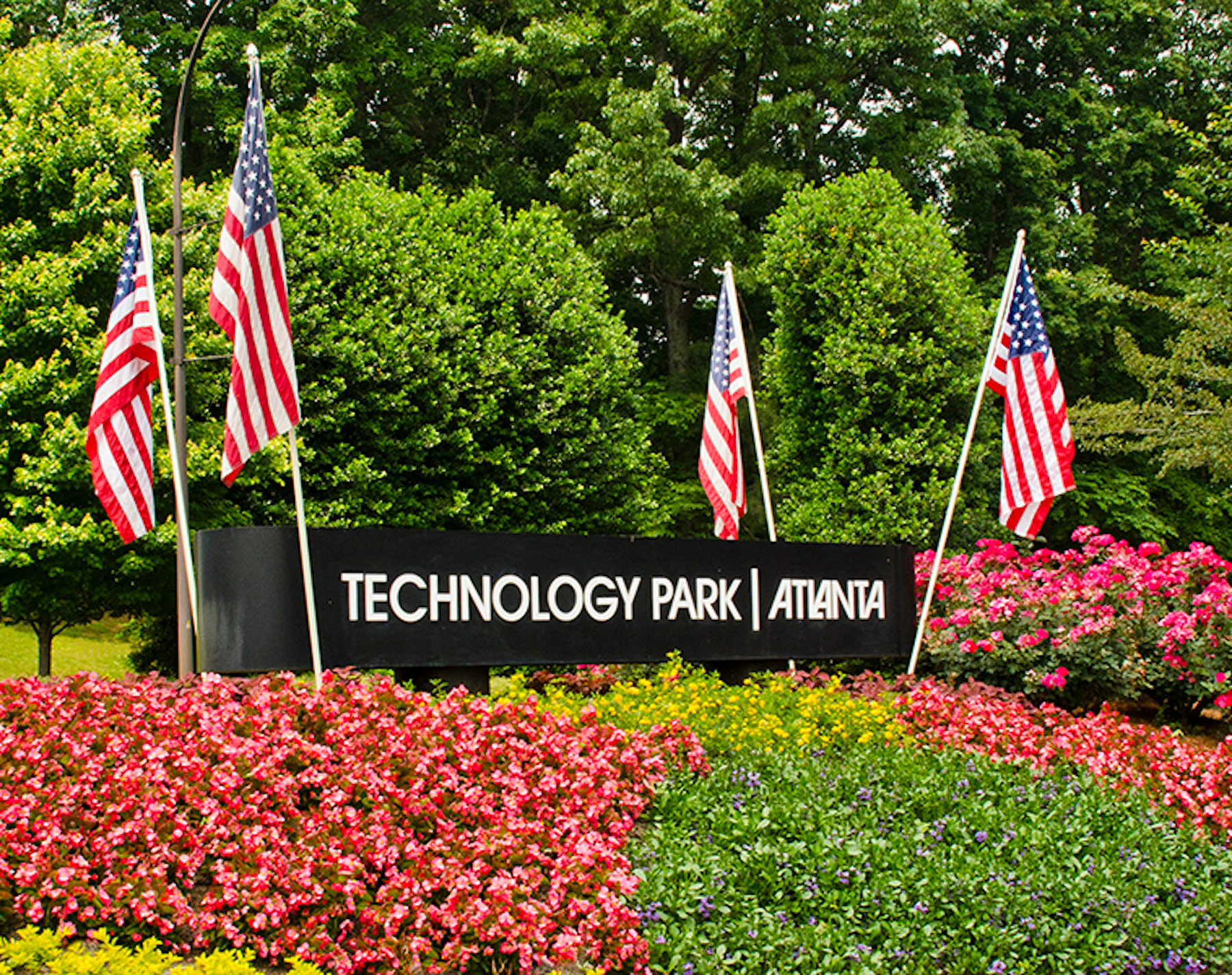 When Yellowstone Landscape was first brought on as the office park's Atlanta commercial landscaping partner, one of the main objectives was a renovation plan focused on water conservation by transitioning many of the fescue common areas to Bermuda grass. It also involved converting many turf areas with planting beds using drought-tolerant plants.

But as the office park has reinvigorated its goals and has become increasingly committed to modernization across the board, we've been involved in helping to create a more welcoming and modern look that would attract new tenants. This has included several large replacement planting projects to help re-infuse new life into the park with beautiful outdoor spaces.

Of course, it's also meant playing a role in other advancement projects the park has underway.

For instance, as Technology Park Atlanta has changed out all of its signage and also brought in lots of utility projects to add high-speed data lines, there has been a need to help restore areas that have been torn up as a result of these types of projects. Using a team approach, managers and crews have worked together with the utility companies to avoid any negative visual impacts during utility construction and maintenance.

We also work closely with the management of Technology Park Atlanta as a trusted partner available to make sure everything continues to look its best.

After all, we understand that a torn-up looking landscape could negatively impact the park's greater goals. If the objective of adding high-speed data lines to attract more technology companies, but the landscape is a mess because of them being added, the benefits can be canceled out. We're here to help ensure that doesn't happen.
An Atlanta Commercial Landscaping Partner that's Here for the Ups and Downs
In the past decade, we've certainly been a trusted partner in helping to ensure that the outdoor spaces remained an attractive element of Technology Park Atlanta. But the past year, in particular, has surely been a roller coaster ride for all office parks facing the repercussions of the Covid-19 pandemic. Like others across the country, Technology Park Atlanta experienced some of that downturn.

We were there as we saw many buildings empty out and many companies adapt to new work-from-home situations. These were trying times for office parks and we once again adapted and shifted as their landscaping needs were changed.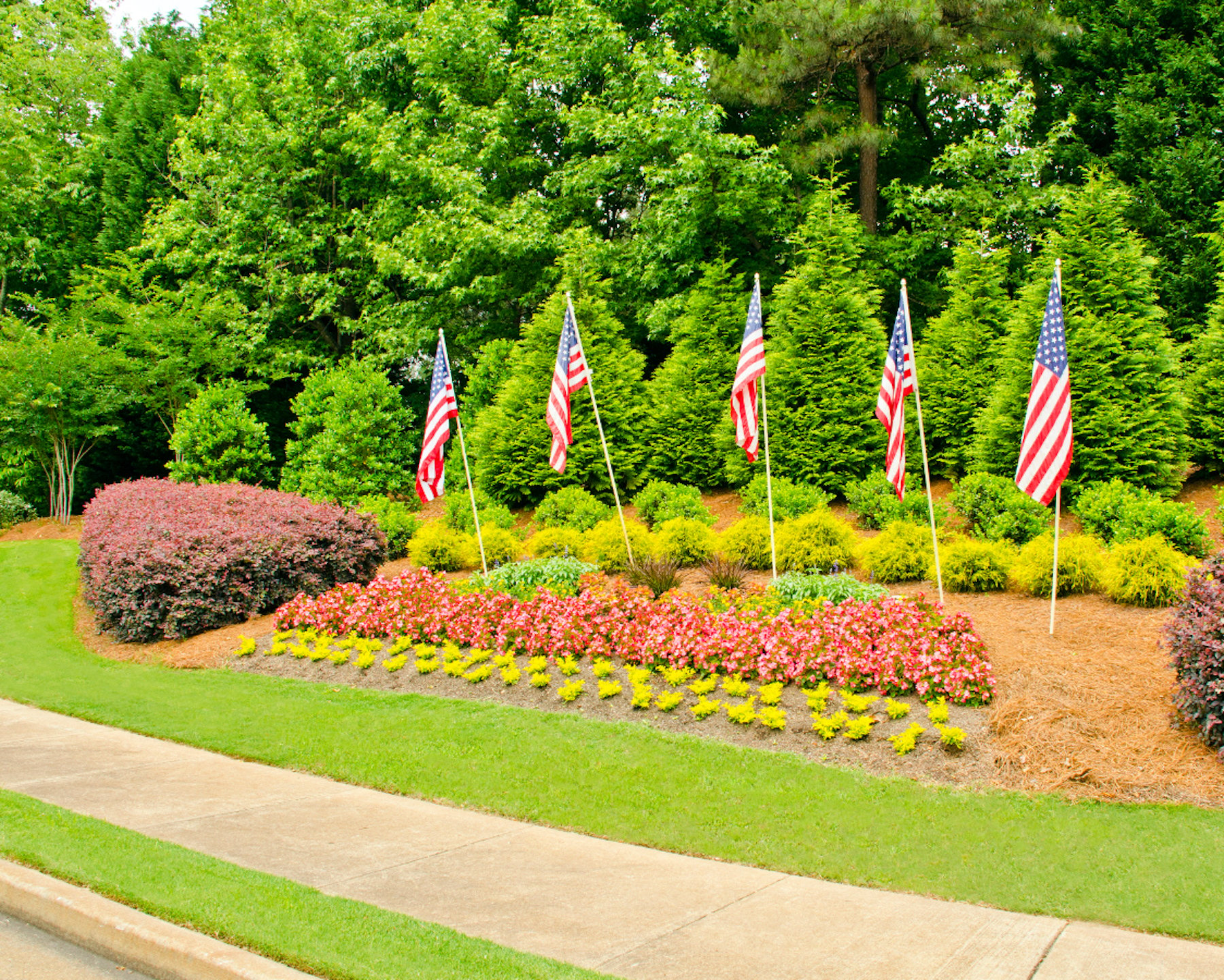 But now, we're here playing a vital role in ensuring those green spaces are welcoming as people return to their offices and get back to work in these commercial spaces. We're seeing these spaces reinvigorated and people excited about coming back to work in-person.

In fact, it's fair to say that outdoor space may be more important than ever as many companies look to utilize those spaces for breaks or possibly even meetings. People have become more accustomed to spending time outside and well-kept, beautiful outdoor spaces are now becoming an increasingly important amenity to those looking for commercial office space.

As Technology Park Atlanta looks to attract new technology tenants, they know that keeping their outdoor areas in optimal condition will play a vital role.
Taking Pride in our Partnership
Technology Park Atlanta is a really excellent example of a commercial space that has been around for a long time but has continued to evolve and rebrand itself, never remaining stagnant. As an Atlanta commercial landscaping company, we've been proud to play a role in those larger goals. Any time that we are working with a client, we pride ourselves on our ability to listen. We listen to their problems—as well as what they're aiming to achieve.

Then, we start talking about solutions and about how we can be a part of those greater goals.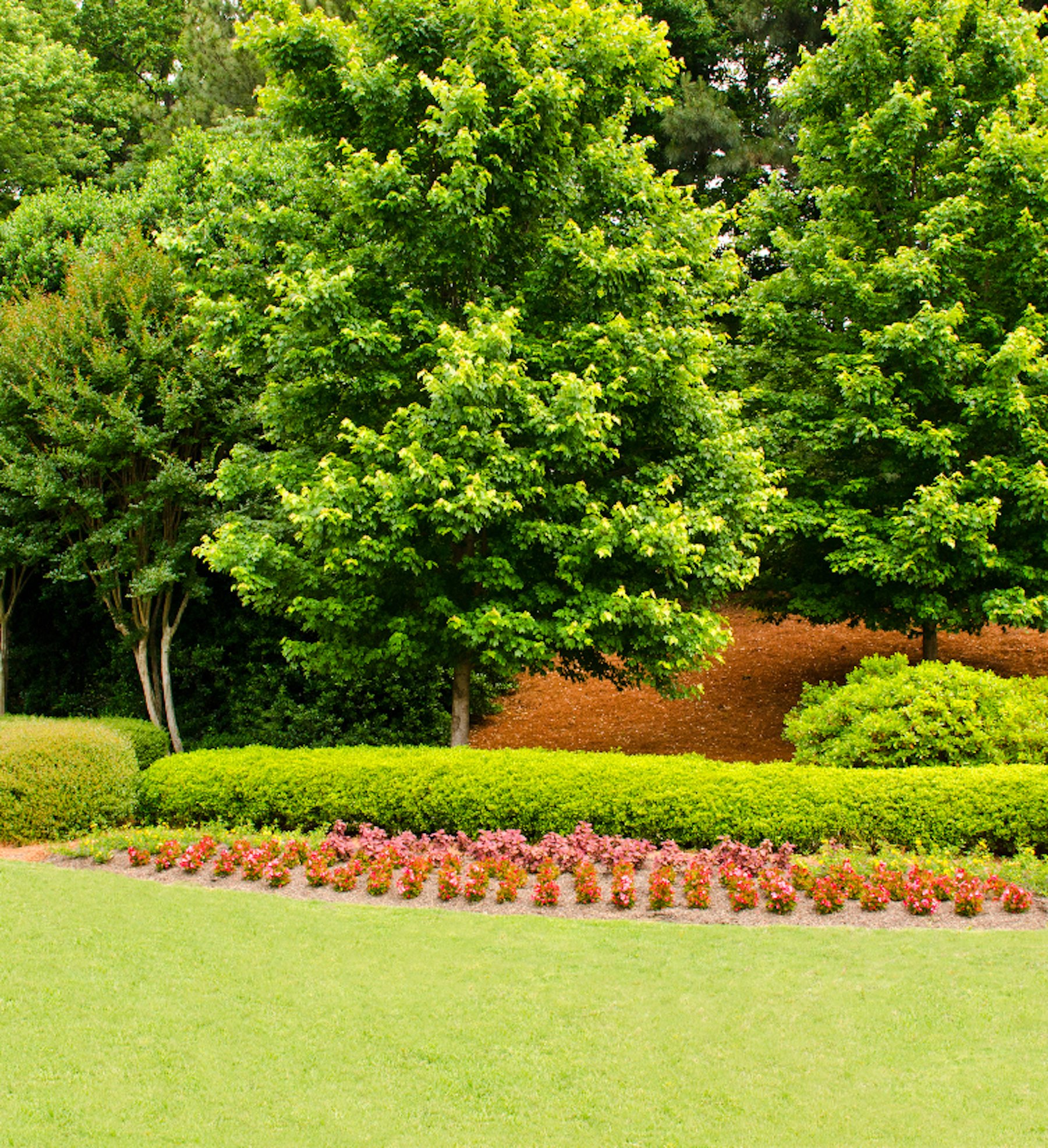 By making communication a precedent, we become a trusted partner.

Of course, we understand that this communication can only be put into action when we also have the capacity to achieve the goals that the client seeks. We also have the capabilities, the size, and the know-how to actually follow through on the plans that we put into place. We are proud to be a commercial landscaping partner that our clients can count on.

As we've said, it's our goal to make YOU look good. We know that outdoor spaces are more important to office parks than ever, and we don't underestimate the role that we play in making you look your best.

It all comes down to the pride we take in the partnerships that we form with our clients. Technology Park Atlanta is a great example of this. We have been there for their changing needs and we look forward to remaining a trusted partner going forward. They know that we are a company they can count on and that we take their plans seriously.

As plans evolve and change, the partnerships that we form with our clients remain steadfast.

Do you have a commercial landscaping project in Atlanta, GA that you'd like to talk about? Request a consultation today. We'll meet to learn more about your property and its challenges and come up with a comprehensive plan to take care of all of the details for you.